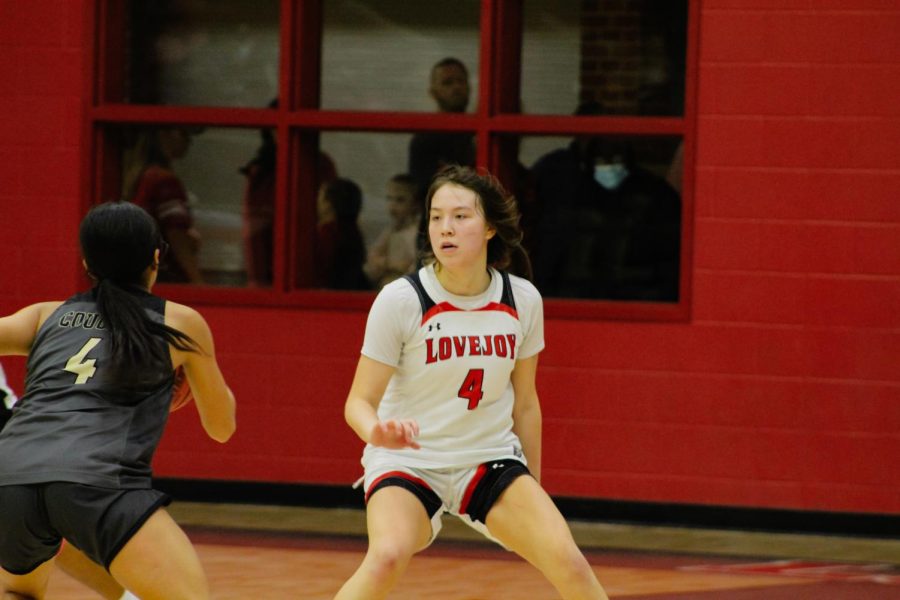 Sydney Stout
Just like that, the leopard girls basketball team is heading to the playoffs. A win on Monday against Denison resulted in a spot in the big bracket.
"Our goal throughout the year was to make the playoffs, so it was very exciting when I was able to tell the team that we clinched a spot after the Denison game," head coach Mike Motsney said. "The girls were extremely excited. I'm proud of all their hard work and perseverance this season."
The final score was 48-35 in favor of the Leopards.
"We played really well as a team and complimented each other on the court," junior guard Chloe Schaeffer said. "Many of us were hitting shots and getting steals, and the gym was full of energy."
Junior guard Samantha Basson had eighteen on the night. Fellow junior Chloe Schaeffer added twelve points.
 "I think that the biggest way we can improve going forward is by playing as a team," senior forward Victoria LaFon said. "Everyone plays an important role and brings important qualities to the team. When we play as a team and focus on moving the ball, we create more opportunities for better shots."
The leopards went to the line twenty-six times, cashing in eighteen of them. They also came down with eleven offensive rebounds.
"Unlike last year, this year we are more of an offensive threat," Schaeffer said. "We started running a new offense with many new plays. We also have lots of new faces on the roster."
The win secured the team a place in the playoffs where they will begin round one on Monday. It'll be their first appearance since the 2019-2020 season.
"Making it to the playoffs was a goal that we set at the beginning of the season," LaFon said. "Finally achieving that goal after working so hard, was super exciting. Now we have set a new goal; to beat Liberty in the first round of playoffs and we are working hard to accomplish that."
Senior night followed the Denison game for the leopards where they recognized senior Victoria LaFon.
 "Being recognized on senior night was a really special moment," LaFon said. "This season, I have worked very hard and senior night was special because many people came to support me and celebrate all the work I have put in the past several years."
The team took a loss on Tuesday against Rock Hill. However, the leopards have their sights set for the playoffs where they will face Frisco Liberty in the first round on Monday.
 "Frisco Liberty is the first place seed from the Frisco district, so we will definitely have our hands full," Motsney said. "They are 29-5 on the season and ranked #4 in 5A in the state of Texas. They gave McKinney North their only defeat of the season. The coaches are watching film and making practices that will give us the best chance of success on Monday. We want to extend our run as long as possible."