Burger 82 is a relatively new local business to the Allen area. The 82 in the name stands for 80-20, the meat to fat ratio that supposedly makes the perfect burger. Although the restaurant is new to the fast casual scene, with 42 five star reviews on Google alone, my anticipation to try their menu grew. 
When I first entered the restaurant, I noticed that nobody else was there but my family and I. Granted, we did go on a Tuesday night, but the rows of empty tables were a surprise. My family quickly placed an order. My sister and I ordered cheeseburgers, mine without pickles, and a side of fries. My father ordered the "82 HouseBurger," which was a burger loaded with a variety of cheese, bacon, jalapenos, BBQ sauce and other classic burger toppings. Lastly, my mother ordered a chicken philly and onion rings. Although my family kept it pretty classic with our ordering, there were plenty of more out of the box menu items that caught my attention. The Hawaiian cheeseburger, which was a cheeseburger with ham and pineapple, and the bacon egg cheeseburger which featured hash browns, bacon, and egg were among some of the more notable options.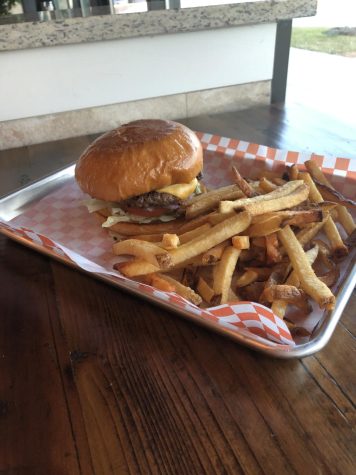 In my opinion, the prices of Burger 82 were standard to other burger restaurants. My cheeseburger was $7.49, while the 82 HouseBurger was $9.99. If you wanted to add on a drink and fries, it is an additional $3.99. Although it is pricey compared to fast food restaurants like In-N-Out or Whataburger, the quality of the food justifies the cost. 
From the time we placed our order, to the time we received it, was around eight and a half minutes. The timing was pretty standard, not too long, but also not extremely fast. The restaurant had a direct view to the kitchen, so we could see our food being prepared. They made everything fresh, and our food was evident of that. 
The burgers themselves were cooked very well. I could tell the burgers were not precooked, and that they were made right before we received them. The toppings were also obviously fresh, with the lettuce and tomatoes being cold and crunchy. An individual order of fries was large, and could definitely feed multiple people. They were comparable to that of a Five Guy's fry, large and very good. The onion rings, however, were not my favorite. They were super bready and the batter did not stick to the actual onion. For the most part, the food was fresh, well-cooked and delicious. 
Overall, the food, service and price point was on par with other fast casual burger eateries such as Scotty P's and Five Guys. The food was fresh and delicious, and I am confident that the other more gourmet items on the menu would be equally as good. My family's individual rankings for their orders was an average of 7.5 which I agree with. The onion rings were a 4/10, which brings my overall rating for Burger 82 to a 7/10. I definitely recommend trying out this new local restaurant.