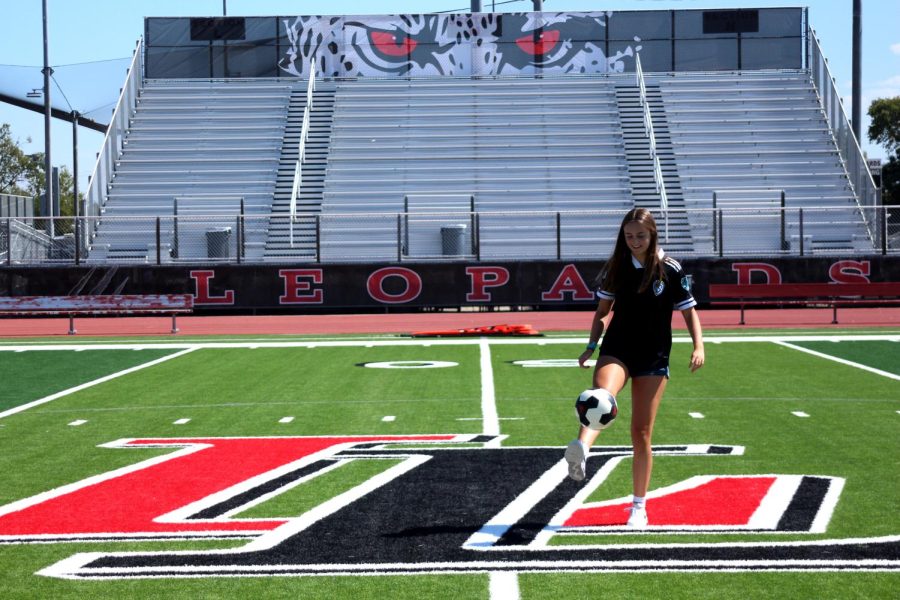 Nick Perez
Junior Mary Mueth is on the varsity soccer team and plays for Sting Elite Club National League. She is a center defender and recently returned from an ACL injury.
Pregame
Favorite pump-up song: "I Get the Bag" by Gucci Mane
Favorite pre-game snack: Peanut butter and banana bagel.
Favorite celebrational dance: I jump up and down when I score. 
Postgame
The Red Ledger: When did you first start playing soccer and why?
Mary Mueth: I started playing soccer when I was three, and joined my brother's team. He is two years older than me and I started playing soccer because of him.
TRL: What position do you play and what do you like about it?
MM: I play center back and I like it because I feel like I can see the whole field and help everyone out from there. It's a lot of pressure, but I feel like once I got used to it I could handle the pressure.
TRL: When did you first figure out that you were good at soccer?
MM: When coaches recruited me to be on the DA [a prestigious soccer league] team I realized, oh hey I might actually be good at this. 
TRL: What coach has been the most influential to you and why?
MM: The coach that has been the most influential is probably my coach Chris Pulpaneck. He has been my coach for five years and he has been in the most influential stages of my life. He's been with me just through growing up and helping me become the person and soccer player I am today.
TRL: What are some of your strengths while playing soccer?
MM: I would like to say my leadership skills. I just like to keep everyone level headed during the game. Or when we're losing I like to keep everyone together and make sure everyone doesn't turn on each other because that never will help anyone. 
TRL: How was coming back from your ACL injury?
MM: Well, I tore my ACL during a school soccer practice last year. Coming back from it was a lot of hard work and there were a lot of ups and downs. But in the end, I feel like it made me a better player because it showed how I persevered through it, and it helped me believe in myself more than I did before my injury.
TRL: Do you think you want to play soccer in college?
MM: Yes, for sure. I definitely[want to play soccer in college].