Chosen by the pageant life
Senior competed in Miss Texas Teen Pageant
Shimmering gowns paint the floor, young women walk the runway with confidence. Months of preparation concentrated into a few seconds of acclamation. Senior Alex Willard had the opportunity to represent Lucas as one of the 130 contestants in Miss Texas Teen 2021. 
"Miss Texas Teen found out about me through modeling," Alex said. "I'm not signed with an agency right now, I'm just trying to decide who I want to be with."
Alex acquired a fascination for modeling when she was 8 years old, but officially started when she was 14. 
"I'm actually a really shy person, but I thought it was super fun to do all these photoshoots in front of a camera and an audience," Alex said. "It could be thought of as self-centered, but In a way, it's empowering and gives you a lot of self-love."
In May of 2020, Alex was chosen through application to represent Lucas at the 2020 Miss Texas Teen Pageant in Houston. COVID-19 caused the pageant to move to this month. Alex had extra time to prepare for the pageant as a new pageant girl with the help of her mother, Brooke Willard, a marketing and business development manager of Willard Dental. 
"We had a while to prepare," Brooke said. "There were going to be things we weren't going to do the same way you would say someone who had been doing pageants would."
Despite Brooke not having any prior experience with pageants, she supported Alex as her number one cheerleader throughout her preparation and pageant experience.
"It was kind of a sense of, I already taught you how to walk in heels so now we're just going to learn how to walk in heels and a gown," Brooke said. "We did what we could and we did it differently."
As opposed to hiring a coach, a hair or makeup artist, Alex's performance and cosmetics were executed independently.
"I'm not a pageant girl, I haven't been in this forever," Alex said. "I ended up doing my hair and makeup myself because I wanted to prove that you didn't need thousands of dollars for a hair and makeup artist."
All the while remaining true to her own methods, Alex had the chance to receive guidance from a number of pageant specialists who would assist her in her journey to the Miss Texas Teen pageant. 
"I consulted with a few different people about what I should do," Alex said. "With a design director that I worked with at Terry Costa, I consulted with him about what dress I should wear, what outfit I should go with and what colors for the pageant."
"
"One thing I've learned about myself is that I don't give myself as much credit as I should, I've done a lot of things that have taken a lot of courage."
— Alex Willard
Design director, Sergio Armas, has been working at Terry Costa for 8 years. Armas handled Alex's search for her dress with ease, as he recognized Alex the minute she walked in the shop doors and had the perfect dress ready for her.
"She [Alex] was definitely very confident," Armas said. "I knew she was someone who really wanted to do well in the pageant and make an impact. In reality, a pageant is an opportunity for girls to serve their community once they win. The ultimate goal is to win a crown but what do you do with that crown after you win? That's really what your standing legacy will be as a pageant girl."
During pageant weekend, Alex impressed district recruiters with the interview portion of the pageant, which is focused on the self-confidence, poise, charm and communication of the contestant.
"There was a district recruiter that had pulled Alex aside after her interview because they were just impressed with her and sat there and talked to her for a good hour and a half," Brooke said. "The lady spoke to her because she loved her story and wanted to know more about Alex. She told her that she would be looking for her in the future to see where she decided she would take all of this."
The Miss Texas Teen pageant was live-streamed and had hundreds of attendees. Alex competed in the preliminary round for Miss Texas Teen and will compete in a separate pageant, Miss Dallas Teen, on September 28 in Richardson. 
"One thing I've learned about myself is that I don't give myself as much credit as I should, I've done a lot of things that have taken a lot of courage," Alex said. "It takes a lot of guts even to walk on stage in a gown."
Alex is looking to attend Texas State University or the University of Mississippi. She plans to work towards her real estate license and pursue marketing or business management in college with pageants on the side. 
"[Pageants are] not about how pretty you are, [they're] about your personality and what you give back to your community," Alex said. "It's more than it appears on the surface. I definitely do it for fun."
Leave a Comment
About the Writer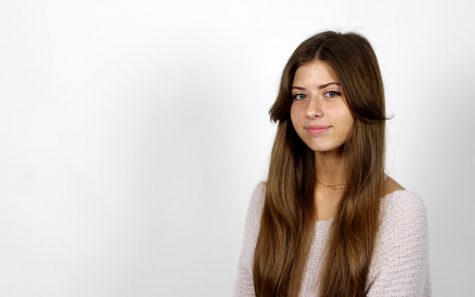 Sarah Hibberd, Staff Writer
Beginning her first year on staff, junior Sarah Hibberd hopes to bring an enlightening, venturesome voice to The Red Ledger. Blessed and fortunate to be...