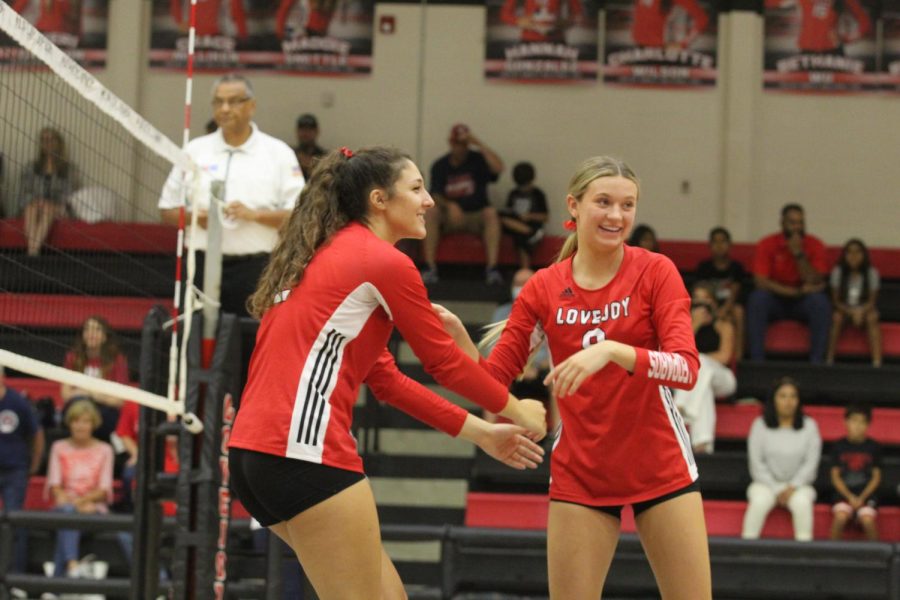 Sydney Stout
The varsity volleyball team defeated McKinney Boyd high school on Friday in a sweep of three sets.
"[The game] went really well," head coach Natalie Puckett said. "We watched some film together and picked up some different strategies on Wednesday and Thursday. We knew exactly what to expect."
Boyd posed a few "challenges" to the team, according to Puckett, including their two outside hitters who scored throughout the game. 
"Boyd had two legit outside players, so in the game of volleyball, they are obviously going to get some big kills," Puckett said. "I think we did a good job of focusing on our big plan, and our middles played phenomenal."
The Leopards won in the third and final set of the game 25-11.
"I would say the best moment was when we won the third set," sophomore Isa Camacho said. "We were all playing amazing, and we racked up a huge lead to finish it off."
The team studied film days in advance to the game to form their game plan for the match.
"We focused on us on Wednesday and more on Boyd on Thursday for practice," Puckett said. "We knew that their two outsides and their libero were good. We also knew that they ran a lot of back row attacks, so we really worked on defending outsides and back row."
The team's middles hit over .500 throughout the game, above average from the previous game the team played.
"There were a lot of good moments, but I have to give props to our middles." Puckett said. "They both hit over .500, which is insane. It's like a batting average. They dominated the game, and carried us to win all three [sets]."
The team's next home game is on Sept. 14 against Wylie East. 
"We all felt accomplished as McKinney Boyd is a good team," sophomore McKenna Brand said. "I think we were all excited to have finished in three, and we are all looking forward to our next game."