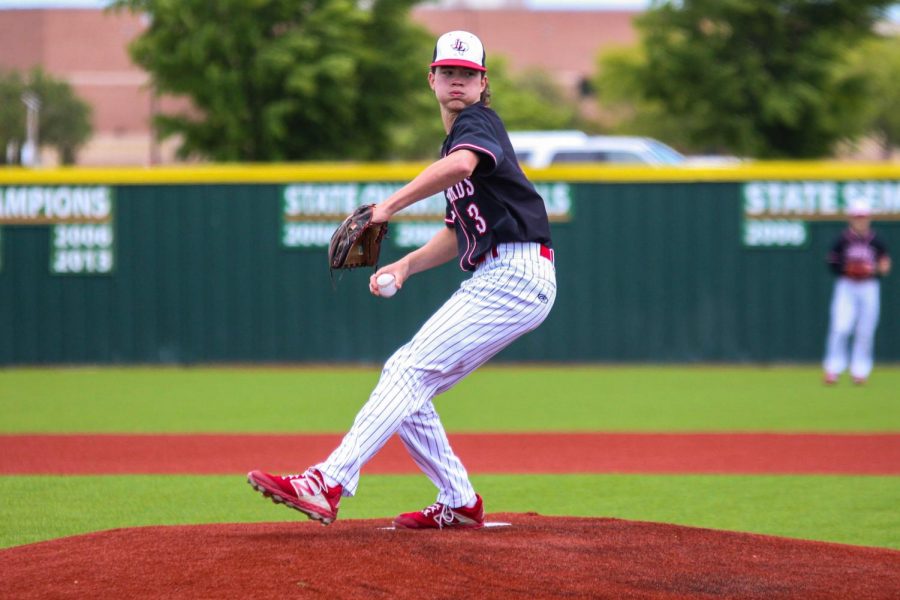 Katie Dolberry
The varsity softball team lost in the district championship on Saturday against Prosper Rock Hill 5-3, and the baseball team won their game against McKinney North 5-4. However, both teams received a spot in the playoffs this season.
"We could've definitely pushed on the pedal a little bit more and longer," freshman outfielder Matthew Mainord said. "We let off the gas after a few innings when we knew we were going to do well. We had a few good hits to start off the game, and we left it in the hands of Cade Hill who pitched really well."
Matthew Mainord, this week's player of the week, hit the game winning double against McKinney North. Mainord had three hits and four RBI's. 
"The game went well, and it was very close," junior outfielder Trent Rucker said. "We ended up with more hits, and won the game 5-4. My favorite moment was when Matthew Mainord hit the game winning double to put us in the lead."
The team's chemistry is better than ever this season, according to Trent Rucker.
"We secured a sport in the playoffs already, and I think we will go very far with the chemistry we have on the team," Rucker said.
Senior Sydney Provence hit a double and was later able to score a run, and put the softball team up 1-0. However, soon after, Rock Hill hit a grand slam, putting them up 4-1.
"The game didn't turn out the way we wanted, but I would say the game went alright," sophomore shortstop Hannah Harvey said." We just weren't hitting the ball like we normally do."
The team plays in their first round playoff game on Wednesday against either Frisco Reedy or Wakeland.
"I think we will do great, and since we have a couple days to prepare, we will be ready to attack and dominate early," junior third baseman Emma Bittlestone said.
The team is focusing on hitting and defense to prepare for the playoffs this season.
"I think over the past couple of weeks we have been perfecting the little things such as bunt defense and hitting," Bittlestone said. "This year, we are playing for our seniors, and I think that since we didn't get the district championship, we will be even more motivated in the coming games."