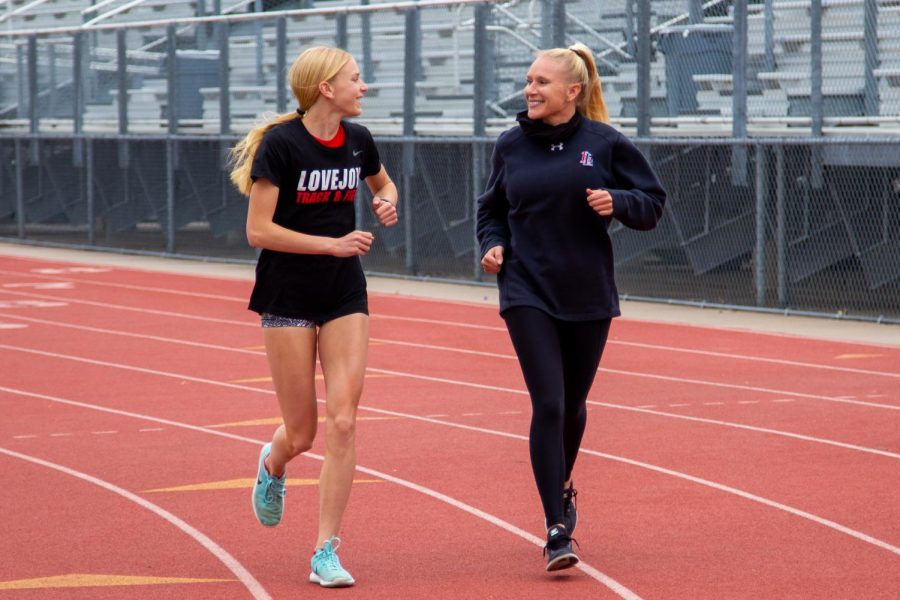 Olivia Lauter
A mass of high school girls break from their coach's meeting to begin the warm up. Between their tall heads, the tiny, five-year-old head of Kailey Littlefield appears. She runs the two laps with the girls while the coach, Carly Littlefield, watches her tiny daughter run. Kailey then returns to her mother as the girls workout. The red-dyed bottoms of their shoes are visible, and then disappear in fractions of seconds as the girl's legs move. After their workout, the little Kailey joins the girls one last time that practice for their cool down.
Since Carly and Kailey both share a passion for running, it played a role in forming their close bond.
"We get along," Carly said. "We don't argue really. We don't fight. We don't really butt heads. I mean she's a good kid, and I trust her. She makes really good decisions and she stays on top of her stuff."
Kailey has been running competitively since she was nine with Carly coaching her.
"The best memories are when you go to the track to do a workout, and you're having a really bad day," Kailey said. "She motivates me and tells me to keep going, push through it, [and] that all the hard work is gonna pay off."
When Kailey was between the ages of nine to twelve, Carly would work out with her. Now, Carly occasionally runs with Kailey on easy runs or bikes with her husband on Kailey's hard days.
"She will get up so early to plan ahead or to get a run in," Carly said. "She does all the little things that people don't see. People see her running, but they don't see that she eats right, and that she spends time rolling or getting her lifting. She does everything she can to be the best runner she can be." 
Carly used to run track in high school and college before she became a coach. Kailey is following in her footsteps.
"She [Carly] definitely has really high expectations for me, which I like," Kailey said. "I mean she pushes everyone super hard, which is what makes her one of the best coaches I've ever known. Just her pushing me hard is really inspiring. I love it."
It is Rizyn Johnson's, a fellow track athlete and student, first year at the district and training with Carly as her coach and Kailey her teammate. 
"They're very motivational," Johnson said. "They help grow up everybody like the track members and everything. Kailey, she's helped me through a lot in school, and coach, she's pushed me to do my best. I like that about both of them."
Kailey and Carly plan to run the Boston Marathon together in the future.
"I am super excited for her," Carly said. "I think that [running is] something that we share, and we talk about it a lot but not in a pressure way. It's something we really have in common."
When Carly and Kailey are off the track, they bond through other outdoor activities on the weekend.
"We all like to go camping together," Carly said. "She loves to shop, so I'll go shopping. I don't love to shop, but I try to do that with her every now and then. We like to hang out and watch TV together and just do things outdoors. We like to ride bikes together. So we're both kind of active and outdoorsy people, so is my husband."
Carly's value of "service to others" rubs off into her team through nearly the whole team helping at the middle school meets and her daughter. 
"When I dropped her off for school, I would say 'Smile at everybody today, and try to make someone's day better,'" Carly said. "I had a thing I would say every morning. It was something like that. She [Kailey] one year wrote me a little note and left in my car and put 'Have a great day, and try to make someone's day bright.' I always hope that that's something she takes with her is that service heart."
Kailey hopes to win the 800 meter and mile at regionals and hopes the four by four team become regional champions and state qualifiers. At regionals Friday and Saturday, Carly will be the one in bright, neon leggings cheering at the top of her lungs for her team. 
"I would describe our relationship as really close," Kailey said. "She's obviously a great mom, and a really great coach, so I think it's fun that she gets to be both my coach and my mom because of how close we are."