Featured Athlete: Michael Myers
Senior forward and midfielder Michael Myers recently signed to The University of Texas at Tyler to continue his academic and athletic career. Myers was named co-offensive MVP for the soccer season.
Pre-Game:
Favorite pre-game song: "Back to Back" by Drake
Teammate you would want to be stranded with on an island: Brandon White
Athlete Role Model: Lionel Messi
Years playing soccer: 12 years
Favorite sport besides soccer: Basketball
Post Game:
The Red Ledger: What are your future goals, soccer or otherwise? 
Michael Myers: For soccer, I'm going to play in college, so just being the best player I can be and being the best person I can be. 
TRL: Who inspires you?
MM: My parents [inspire me]. They push me in every category in my life; school, soccer and personal stuff. They want me to be the best.
TRL: What is your favorite memory as an athlete for the school so far? 
MM: Being a teammate to all the guys I was with in all four years of soccer, and then also in basketball. Being a teammate and having fun at team dinners after games [and] after wins.
TRL: What are you most looking forward to about playing soccer at UT Tyler?
MM: [I'm looking forward to] the experience, and to see how much I can grow there. We'll see if I can end up [playing soccer] past college. 
TRL: Describe the process you took in selecting UT Tyler.
MM: With COVID-19, it was tough, but UT Tyler was always on my map.After I went to visit the campus, it was really pretty, and I had some old teammates go there. After discussing with schools and with my parents, I think [I] just decided to go there because I knew some people, and the coach was very nice and relatable.
TRL: What do you enjoy about soccer?
MM: [I enjoy] how much fun I have playing it. [Soccer is] just one of those things where when I'm on the field, I know what I'm doing 100%, and I'm in my comfort zone completely. 
TRL: What is your biggest soccer accomplishment, and what does it mean to you?
MM: This year going to nationals [for my club soccer team, Solar, is my biggest accomplishment]. It is my first time going to nationals for soccer, and I'm just really proud that as a senior hopefully I can go out as a national champion.
Leave a Comment
About the Writer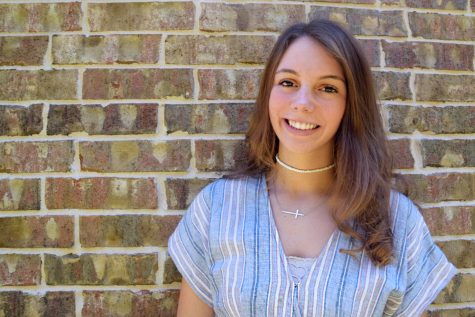 Katie Dolberry, Section Editor
Heading into her second year on staff, senior Katie Dolberry is excited to take on the role of sports editor and photographer. She would like to pursue...