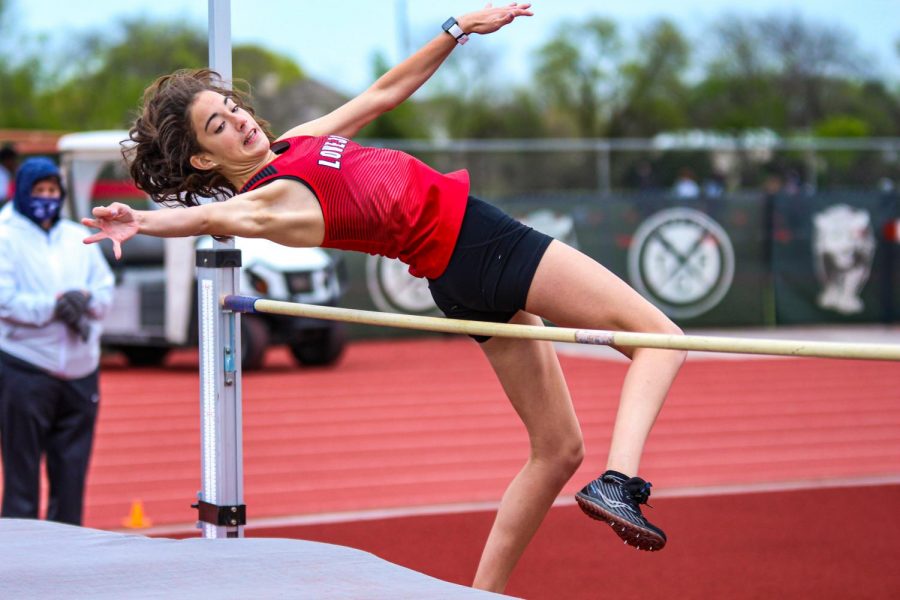 Katie Dolberry
As freshman Kailey Littlefield circled the track for the second time to complete her 800 meter run, she accomplished a new personal and school record at a time of 2:09.81 at the district meet held at the high school on Wednesday and Thursday. Littlefield was not the only track member to make the podium and head to area on April 14 at Frisco Memorial High School. 
"I think we performed very well," sophomore relay and hurdle runner Morgan Streeter said. "We had a bunch of personal and school records set both days [of the meet]. We came out strong and determined. We have been working very hard, and it was great to show it all off at districts."
Amy Morefield, Kailey Littlefield, Tate Barr, Coston Adamson and Mason Stein, all took first place spot on the district podium. 
"As far as the girls team goes, we did great," sophomore 4×200 meter and 4×400 meter runner Chloe Schafter said. "We have a good amount of girls advancing with good times. Overall, I think all the team did good. We gave it our all and had someone qualify for finals in every running event."
The Leopard boys placed third overall, and the girls tied for second place. The teams competed against Denison, The Colony, McKinney North, Princeton, Rock Hill, Sherman and Wylie East.
"We knew coming into the meet that McKinney North would be a tough team to beat, and we came in, gave it our best, and got second overall because of the whole team's dedication and hard work that we give every day," junior 800 meter and 4×400 meter relay runner Riley McGown said.
In the 4×400 meter relay, the girls team won with a time of 3:56.81, and the boys team placed fourth in the 4×400 meter with a time of 3:28.48, advancing both teams to area. 
 "I think the meet went pretty good," sophomore 4×100 meter and 100 meter runner Mason Wallace said. "We definitely could have done better, but we finished in 2nd place as a team. We come into every meet with the mindset that we're there to do nothing but win, but have fun and enjoy the sport while doing it."
According to Streeter, the team was satisfied with their performance, and is ready to advance to area.
"I think the team was prepared as much as we possibly could have been," Streeter said. "We've been working hard day in and day out. We showed up and did what was expected at districts. Now, we just see how far we can keep advancing."