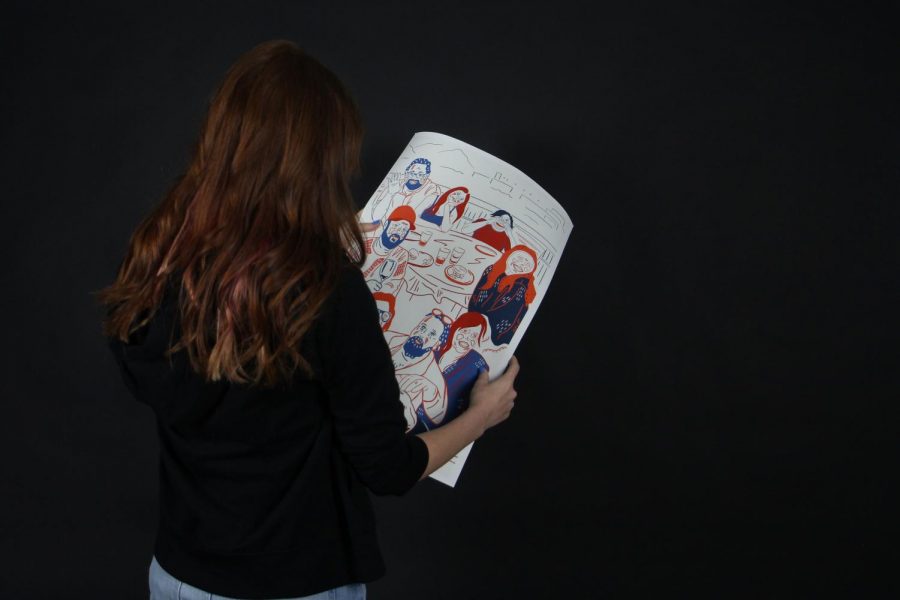 Jade Owens
Senior Molly Gornell started art her sophomore year and is now a part of AP 2D Design. She is hoping to continue her passion of art into college. 
At A Glance: 
Favorite fast food: In-N-Out 
Favorite song: "California" by Lana Del Rey 
Favorite tv show: Breaking Bad 
Favorite artist/painter: Polly Nor
Looking Deeper: 
The Red Ledger: What are some of your extracurriculars or hobbies that you enjoy participating in? 
Molly Gornell: A lot of my time is spent working on my personal body of work. I enjoy exploring different media such as embroidery, different paints, and drawing materials. [Also], I love filming and editing together videos. 
TRL: How long have you been drawing? 
MG: I would definitely say I have been drawing my whole life but got more serious about it during sophomore year. 
TRL: How has art impacted your life? 
MG: My parents are two of the most creative people, so art has always been a major part of life. Art has also opened so many doors and given me so many incredible opportunities. 
TRL: How has art impacted your time in the district? 
MG: After being moved into AP 2D Design, I met some of the most incredible people at Lovejoy. The LJVA community is filled with the most creative, caring, and special individuals. The art teachers care so much about their students and make high school a great experience. 
TRL: Do you hope to continue pursuing this hobby once you graduate high school? 
MG: Next year, I plan on studying graphic design. I hope to one day become either a graphic designer or art director.
TRL: Has this hobby impacted your college choices? 
MG: When I was deciding which colleges to apply to, I heavily researched their art and design programs. Right now I am choosing between UC San Diego and UT Austin, both [are] two great schools for design. 
TRL: Who are some people who have inspired you?
MG: When beginning a piece, I heavily research different artists. Some inspirations include Polly Nor, Do Ho Suh and Alexandra Bowman. I am [also] incredibly inspired by my mother, Susan Gornell, and her design work that helps female-founded businesses. 
TRL: If you have one saying to live by what would it be? 
MG: "Everything is what you make of it." This quote reminds me to take advantage of all opportunities I have to make sure that I use the potential of all situations despite hardships and challenges. 
TRL: Do you have anything extra you would like to add? 
MG: I would definitely say that everyone should take an art class at Lovejoy. Even if you don't think that you are "good at art," you will have so much fun and get to meet the incredible teachers.