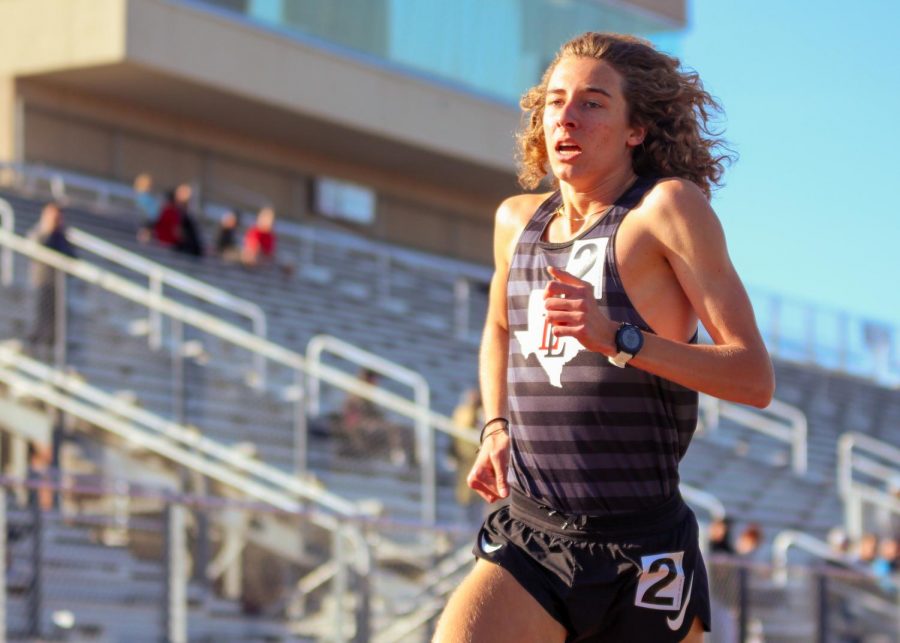 Katie Dolberry
Junior Tate Barr broke his personal record for the mile run at the Texas Distance Festival with a time of 4 minutes and 23 seconds.
Pre-Game:
Event(s): 3200 meters (2 mile), 1600 meters (mile)
Years of Experience: 4 years 
Favorite pre-race meal: Spaghetti 
Post-Game:
The Red Ledger: When did you first start running competitively? Why?
Tate Barr: I started really running seriously freshman year. I had stopped playing other sports because I figured I would excel the most in running, also because I had seen the success that can be reached through hard and smart work.
TRL: How do you prepare to get better times every time you compete?
TB: After every race, I look back to see where I can improve, and if I could have gone faster, so when I race next, I try to put the plan into action. 
TRL: What was your reaction when you beat your personal record mile time?
TB: I knew I was going to run faster because training was going perfectly. I knew at some point I would have a big personal record. 
TRL: What is your favorite part about track?
TB: My favorite part is definitely the team. It makes training much easier, and the team culture allows everyone to help each other. 
TRL: What are your future goals in track?
TB: Right now, I am just focused on getting as fast as I can while staying healthy. I know if i can do this, I will be able to continue running competitively in college.
TRL: Who is your role model? 
TB: I like to think that I don't run to be like someone else but to show the strength and love of God. 
TRL: How has track impacted your life?
TB: It has given me a backbone for my life, and it's a mindset I can use outside of practice whether that's in the classroom or something I'm trying to accomplish in my free time.