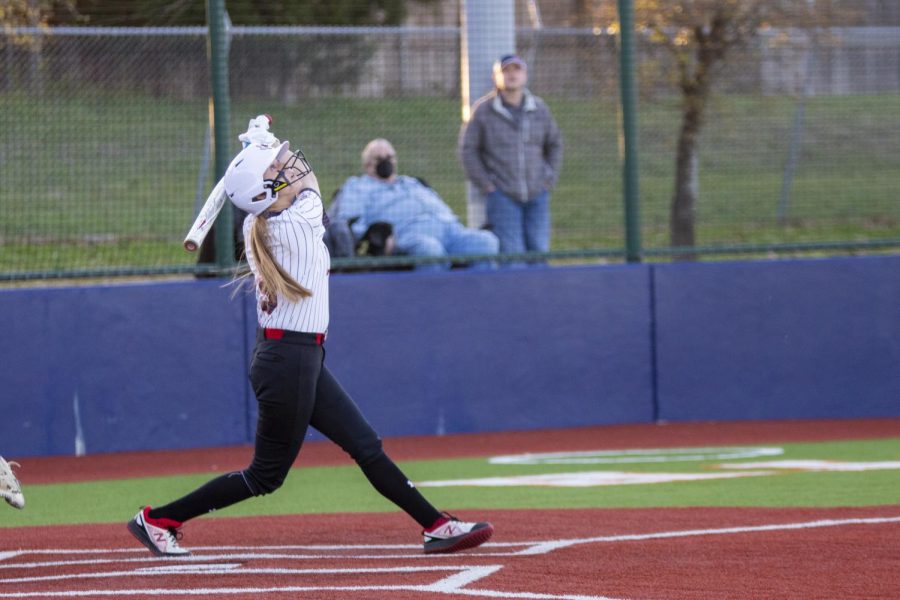 Olivia Lauter
In the fifth inning of the softball game on Friday, Denison scored two home runs, bringing the score to 5-0. The Leopards used this as an opportunity to turn on a switch and begin scoring, but they did not manage to bring five back. 
The softball team lost to Denison 2-5. On Friday, the baseball team beat Sherman 5-2 and lost to Highland Park on Saturday 2-0. 
"Sherman was a good game for us because we finally game out and put some runs up early," junior and first base player Will Branum said. "In our past games, we've been starting up our offense too late, and giving the other teams too much time to get up on us early in the game."
The softball team was on a winning streak after beating McKinney North 21-1 and Sherman 19-5 but were unable to continue this over the weekend.
 "I think going into the game we thought that we could easily win, and that we would be in and out quickly because for the past couple of games that's what we had done," junior and third base player Emma Bittlestone said. "That was not the case, and I think that having that mindset really delayed our skill in the game."
The softball team is working to improve focus, communication and mindset for future games. The baseball team looks to score early in the game, similar to their Sherman game. 
"We didn't play up to our best abilities when we played Denison, so I would say I didn't feel too good about that game," sophomore and middle infielder Hannah Harvey said. "I would say we need to improve on having less errors in the game and knowing situations before the pitch is even thrown."
The softball team made a few errors on defense and did not adjust to the offence per usual, according to Bittlestone. 
The baseball team will play McKinney North tomorrow, and their team is undefeated in the district. 
"The goal was to win a tough game, and we knew Sherman was throwing their best pitcher," pitcher Drew Summers said. "We are looking to beat McKinney North in a big home game tomorrow." 
The softball team will play Prosper Rock Hill tomorrow.   
"We should've won, but ultimately there wasn't something to point out that lost the game," Bittlestone said. "On Tuesday, we hope to be firing on all cylinders and start a winning streak again."