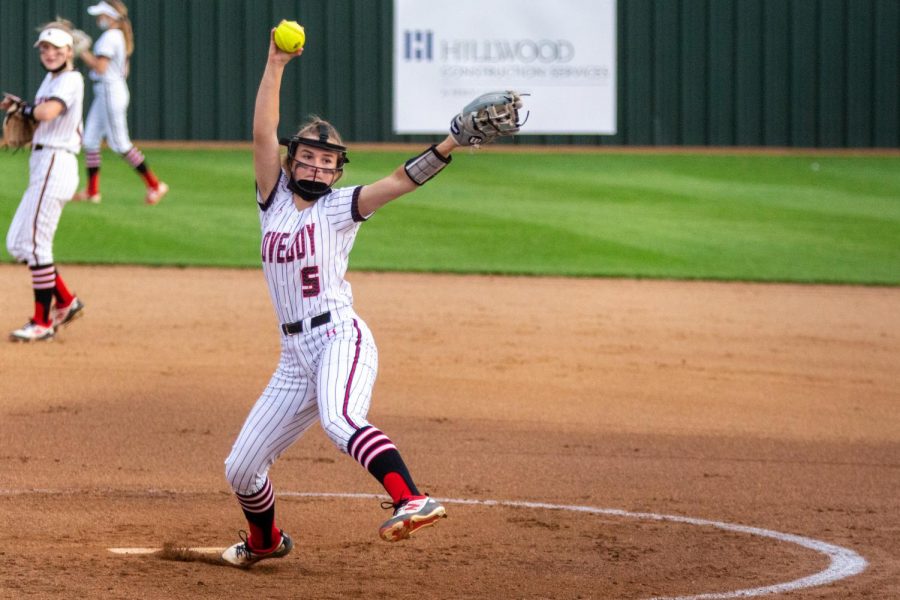 Olivia Lauter
The Leopards hit the diamond once again on the road Friday to face Sherman. It was the Leopards first game against the Bearcats. The girls came out with a 19-5 victory to improve their district record to 4-0.
"I think the team as a whole played great," sophomore second baseman Hannah Harvey said. "We all stepped up and contributed somehow whether that was defensively or offensively. Our defensive game, and our bunt coverages could've been better, and knowing the situation before you got the ball."
The team totaled with 19 hits on the night. Sophomores Sydney Bardwell, Elliot Pomeroy, and Hannah Harvey led the team with three hits in the game. Senior Holly Massey also had three hits in the game. Freshman pitcher Skylar Rucker allowed five hits and six strikeouts in her five innings pitched.
"I think the difference between Sherman and us is our grit, and our team chemistry," freshman pitcher and shortstop Skylar Rucker said. "We wanted that win way more than they did, and it showed on the field. Our team doesn't crumble when something goes wrong, but instead we lean on each other and come out stronger, which is something I think no other team has like we do."
The Leopards faced a Sherman team that had a 1-7 record last season. 
"Coming into every district game we understand that we cannot take any team for granted," head coach DJ Lopez said. "We live with the comprehension of winning the next pitch and embracing the target of getting each team's best effort because we have been a top of the district."
The team gave up three runs in the fourth inning, but the Leopards were able to counter with seven runs of their own.
"One great thing about our team is that we never give up, and when adversity hits we don't fall, yet we strive off that adversity," freshman pitcher and shortstop Skylar Rucker said. "So when Sherman had that one good inning where they scored a few runs it didn't bug us, we just knew we had to come back 100 times stronger that next inning which we did. We weren't going to let them rally off that one good inning so instead we rallied off it."
The team will take on Denison next Friday.
"I know for a fact we are going far because of the determination and grit this team has," sophomore catcher Sydney Barwell said. "We are so confident when we play, and we really have each other's back. This team is so special, and I'm so excited to see where we are headed."