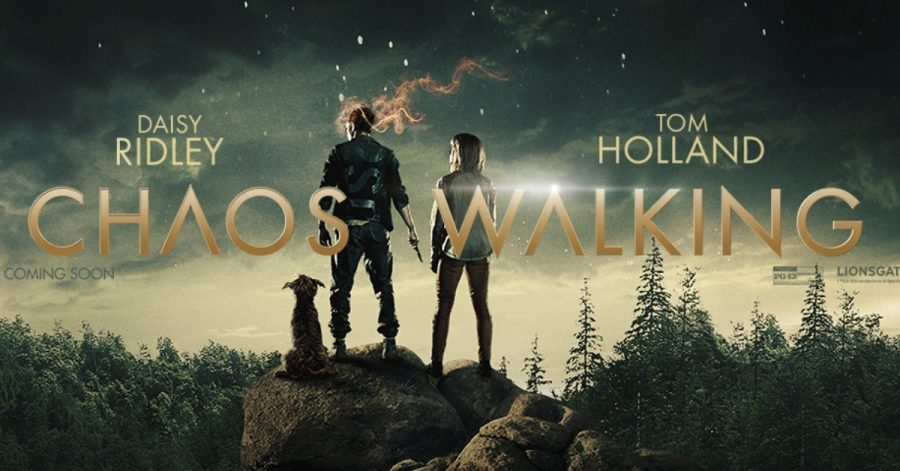 Courtesy of Templeofgeek
Everybody's favorite new spiderman, Tom Holland, and the new main character of the star wars franchise, Daisy Ridley, teamed up with director Doug Liman to create the new movie "Chaos Walking." The movie premiered on March 5 in theaters, as PG-13 with a running time of 1 hour and 49 minutes, and although being loved by the audience, critics did not give as much appreciation.
"Chaos Walking" is a sci-fi/adventure film that follows the life of Todd Hewitt (Tom Holland) after the sinister company, Spackle, releases a virus that has eliminated all women from the world, and left the men with their natural enemy… noise.
Another main character, Viola Eade (Daisy Ridley) crash-lands from space, where she immediately meets Todd. Without any knowledge of her life before, Viola notices that Todd as well as all other men that she has met have their thoughts put on display. Men having their thoughts put on display creates uncertainty for the audience, and sets a slight comedic tone, which is represented by some of the silly things we hear the men think as we learn from Viola's perspective such as how she looks.
This is not to say that you shouldn't go watch this new film because even though it doesn't contain the best acting from our main characters in suspenseful scenes, or the plot could be seen as dry or boring because of the pacing, it is an enjoyable film that can have you giggling and in-tune with the story.
Another reason to go see "Chaos Walking" is because it is showing in theaters. With the COVID-19 pandemic, we haven't been able to enjoy such things recently, but if you have the opportunity, this would be a great movie to experience in the theaters because it contains moments of suspense, as well as moments that surround sound in a theater could make a difference in.
"Chaos Walking" directed by Doug Liman, is not going to win any Oscars from the poor acting and pacing, but there are aspects of this movie that people will enjoy such as the adventure of the main characters or the actors who play those roles. This movie is worth a watch, whether you watch it just for the actors or to have an excuse to go to the movie theater.
Rating: B-