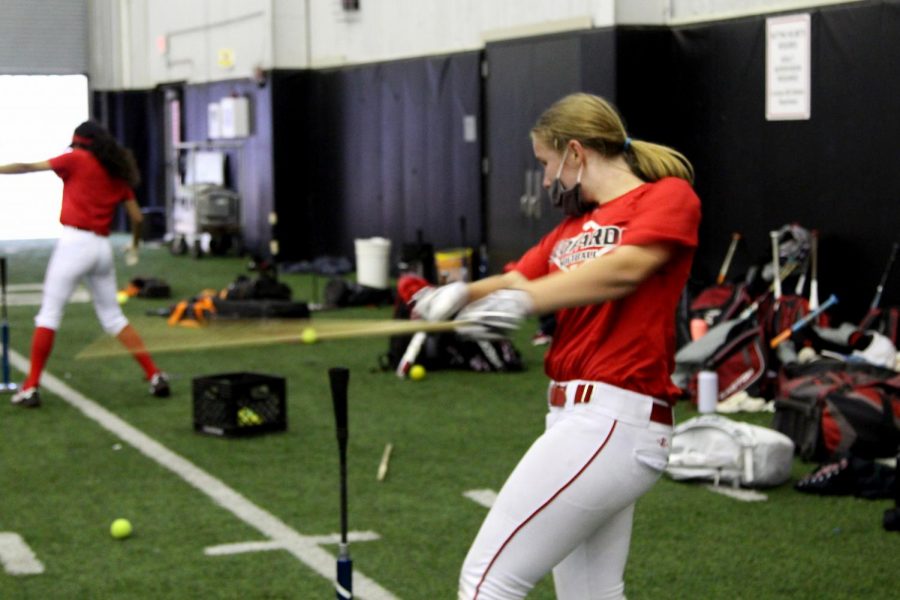 Olivia Lauter
With less than a month away from the season, the Leopards softball team has been preparing for their season opener against the Emory Wildcats on Jan. 30. 
"I don't think it matters who we are playing," senior Holly Massey said. "As long as we come together, embrace our roles, and ball out like I know we can. We can be toe to toe with anyone."
Head coach DJ Lopez entered this year for his first season as coach. Lopez was previously the head coach at Eastlake High School in El Paso. There, he created one of the top softball programs in the area. 
"This team has the potential to be a great story, and when you compare this to the great teams I had In El Paso, you're able to analyze and understand the great work and mind set that is here in the Lovejoy community," Lopez said. "This is credited to the great families we have in this great community and translates into hard workers and coachable players. The sky's the limit [for the team] and it's the chase for that champion mentality."
Last season, the leopards finished 12-9, and with the pandemic, they weren't able to finish the rest of the season.
"When last year's season got cancelled, it was very sad because we never had the chance to truly show off all the hard work we had put in to play out," Massey said. "It was extremely heartbreaking for the seniors, some of my closest friends, to not get their chance to leave the legacy they wanted for the Lovejoy softball program. This year, as a senior, I'm not only fueled by playing for my current teammates, but I'm playing for last year's seniors. I really want to make this year's season count."
The Leopards had a longer offseason to be ready for the first pitch.
"During the off-season, coach incorporated a lot of softball within the workouts, which has helped our team grow together in a variety of ways," junior third baseman Emma Bittlestone said. "It's one thing to have a team who can run or lift, but it's different to have them be able to do all the components of the game in one sitting and do them well."
Now that preseason workouts are coming to an end, the Leopards look towards the first game.
"One of our greatest strengths is our returning letterman," Lopez said. "All of our seniors have been returning letterman since their freshman year, and their leadership qualities are out this roof. We also have some great juniors with a ton of experience and great, great work ethic. Our sophomore class has great potential, and I know [they] are ready to take the challenge and maximize their skill set. We also have one of the biggest freshman classes ever in Lovejoy softball from what I am told, and they can really play, instilling 'getting your mind right' and embracing the grind is what we will build off of."