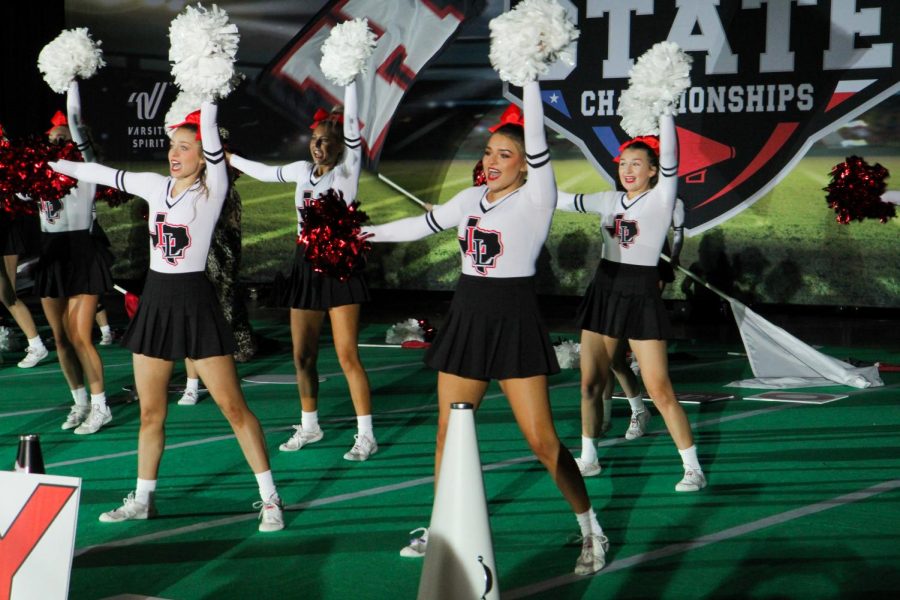 Courtesy of Mackenzie Hall
Yesterday, the cheer team competed in the state UIL competition and finished on the podium for the second year in a row. The team placed third overall for district 5A Division II, coming in behind Crandall High School at first and Alamo Heights High School at second.
"We all felt that we left everything on the floor," junior cheerleader Viviana Yerkes said. "Medaling at UIL is a huge deal, so we were so happy with how we placed. I was holding hands with my best friends, and we all hugged each other and were so happy when they announced 'Lucas Lovejoy' for third."
The cheer season started later because of COVID-19, so the team had less time to prepare than in previous years.
"With all of the obstacles that we faced and everything, it was a really proud feeling that we still came out with a third place victory, and all their hard work paid off," junior varsity cheer coach Laura Pikl said. "This team was really special because they really wanted it really badly. There was not a single girl who didn't want to be there."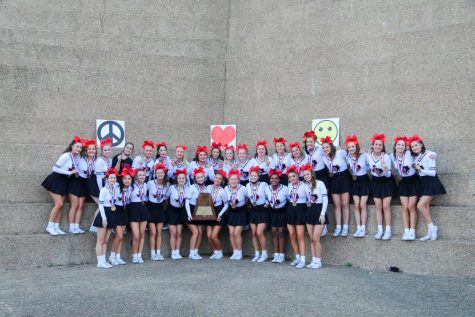 This year, because of COVID-19 precautions, the event looked a little bit different than previous years. This year's competition began with a preliminary round consisting of the fight song, a cheer and a band dance. The top 20 teams moved on to finals.
"We seniors were sitting in our [hotel] room, and we were so excited," senior cheerleader Grace Felton said. "We [saw] the screenshot on Twitter that we were finalists and were super relieved. It reassured us that we were doing good."
The 20 teams that made it to finals performed fight song, cheer and band dance again. Scores from the finals round were tallied with no impact from the preliminary round. The team scored a total of 90.45 points, which awarded them third place.
"We have been working very hard since August, and we all wanted to do our very best," Yerkes said. "[During] UIL [preparation], we spend a lot of time together on top of normal cheer, so we become a family. We all were fighting to win for each other, as well as ourselves. We all wanted it so bad."
Last year the girls came in second and became the first cheer team at the high school to place in the top 10. According to Yerkes, the team was hungry for a win this year.
"[Getting] second place [last year] motivated us because going into [this year's] practice, we knew that we were capable of doing really well," Felton said. "I think our team was successful because of how much we wanted to do well and how motivated we are. Since we started doing good last year, we felt like okay we really [needed to] step it up this year."