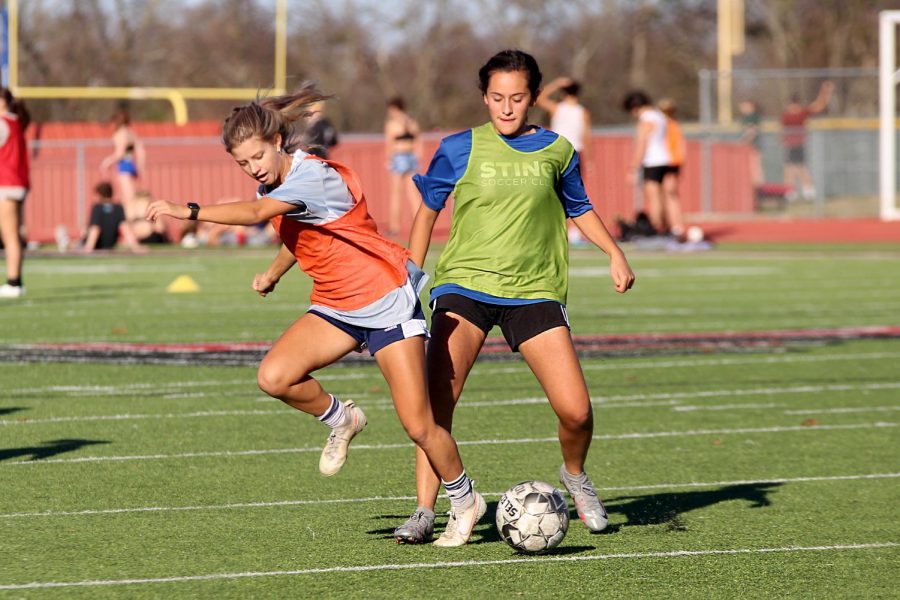 The girls  soccer team started off the season with a district title and continues to prepare for the season with the guidance of head coach Ian Keeble.
"Three years ago, I took over the girls program, and we turned it all around," head coach Ian Keeble said. "I have really good players, which helps of course, to build the program. Last season was cut short because of the pandemic, and we won a share of the district title. This year, I expect us to keep building on what we have done so far." 
According to Keeble, this year's tryouts were the most competitive they've ever been, and the girls were prepared for the tough competition.
"I think overall, the players who tried out were very talented, but in the end, I believe the coaches' final decisions were looking for the players who were consistent in their skills and kept a great competitive mindset," freshman player Natalie Burns said.
The two teams take precautions to ensure the safety of players.
"At practice, we stay divided between JV and varsity, and we wear our masks when we aren't practicing to keep everyone safe," freshman player Lauren Dolberry said.
The varsity team's first game is Jan. 7, against Arlington Heights, and district tournaments begin on Jan. 22, with their first game against The Colony. 
"I think the team will go really far this year because we play well together, and we have lots of very talented players," Dolberry said.