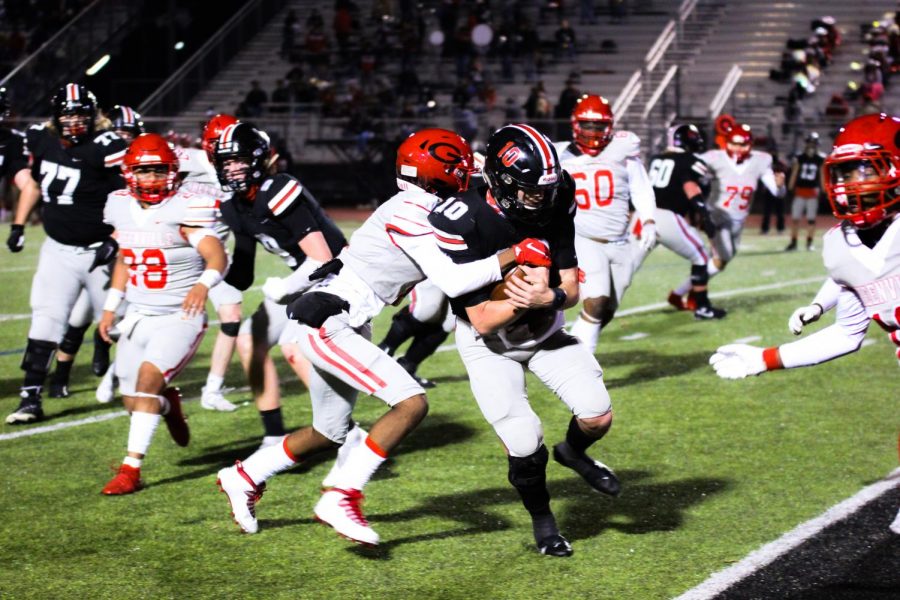 Katie Dolberry
Senior quarterback Ralph Rucker takes a knee in victory formation behind his offensive line to conclude a 45-30 playoff victory. The football team was named bi-district champions after the win over Greenville. The team will face Everman on Friday for the area championship. 
"I think the team played really well, " safety coach Marcus Trice said. "There are areas where we can be better. Overall, these young men played fast, physical and with an immense amount of enthusiasm & belief in one another. [I] can't help but be proud as a coach." 
The Leopards combated the Lions' speed with leverage, angles and rallying to the ball. The Lions only had one rushing touchdown in the game.  
"No matter how much you try to simulate [the game in practice], you can't," junior linebacker Philip Joest said. "Once we saw [the speed] in the game, we just had to keep stopping them before they could get started. We learned that every team in the playoffs is really good, and we need to fight every day, and every week, to keep our team and family together." 
The Leopards outscored the Lions every quarter except for the fourth. The Lions were 4-4 going into the game. 
"What the team learned was we have to play at our best no matter what in the playoffs," junior running back Noah Naidoo said. "We could've easily lost against Greenville, so we have to focus up this week and for the rest of playoffs."
One of the team's mottos this year has been to go '1-0 on the week,' meaning they are only worrying about one game at a time.
"This week, like others, our team went into the game with confidence," Trice said. "I think that is a direct reflection of our preparation. The mindset is to go 1-0 each week, but we understand that starts by winning Monday of each week."
According to Trice, how the team uses it's time between games is critical. Preparation for the next game starts as soon as the previous game ends. After the game, they meet to evaluate. The next day they break down and with the players and move on to preparing for the next game. 
"Our preparation is always the key," Trice said. "We have to make sure we're taking advantage of every practice, every meeting and every study session. We have to be prepared to take advantage of every key moment within our game on Friday."

The team will play the 6-5 Everman Bulldogs on Friday at 11 a.m. at Globe Life Park in Arlington for the area title.
"The key to success against Everman is to win up front with the big guys and establish a run game," Naidoo said. "On defense, we have to limit them to three and outs [single drive possessions], and overall, we have to play longer than they're willing to play."