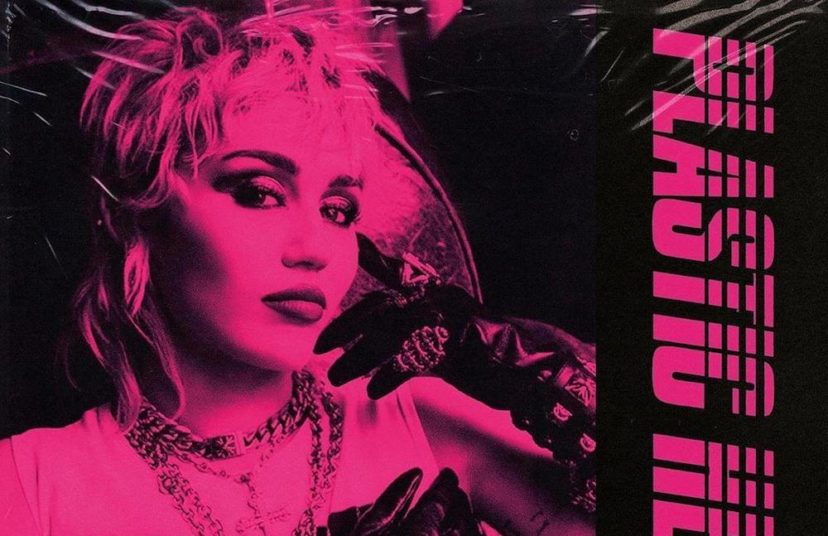 Courtesy of RCA Records
Miley Cyrus is back again with her studio album release "Plastic Hearts" featuring 15 songs clocking in at a 50 minute run time.
"Plastic Hearts" kicks off to an energetic start with a headbanger of a song about Cyrus post-breakup mixed with rock music, all stirred in a big pot of greatness. 
Next up on the "Plastic Hearts" album is the title track "Plastic Hearts." Cyrus breaks out of her shell on this one and makes the listener want to go on an adventure as well because the title track conveys to the reader that they need to go out and experience new things. The lyrics of "Plastic Hearts" can be portrayed as demeaning, with words such as "frightened by my own reflection, desperate for a new connection." The lively vocals from Cyrus combined with the rapid, never-ending chorus make for three minutes and 25 seconds of pure joy. 
Later in the album, we find the song "Prisoner," which features famous pop artist Dua Lipa. This smash hit can not only make a car rumble from the bass, but can also turn a night of boredom into one of excitement. When Dua Lipa appears on "Prisoner," the enjoyment from the almost angelic voice is one that is second to none. This song was originally released earlier in 2020 and was a breakout hit for good reason.
Most of the songs on "Plastic Hearts" feature a heavy rock influence, but "Midnight Sky" is quite different. "Midnight Sky" makes someone feel like they are in a Nirvana concert in the 80s, having the time of their lives, and this is because of the EDM influence on this song. These kinds of music make the listener feel more energetic and hyper.
Another song that takes a unique approach in "Plastic Hearts" is  the song "High." The uniqueness of this song comes from the low-melodic beat combined with quiet vocals. The lyrics of this song can make someone feel down in the dumps, so be wary on how you are already feeling before listening to it.
Overall, Cyrus made a huge comeback to the music world with her new studio album "Plastic Hearts." This album is better than most since it has a variety of music types. The music also explores the different emotions one can experience, and features outstanding instrumentals.
Rating: B+