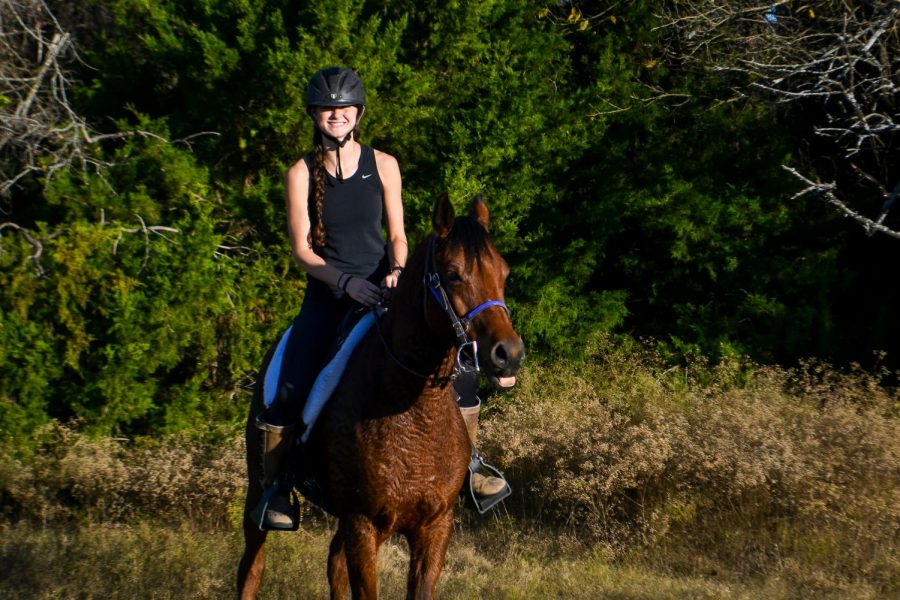 Olivia Lauter
Trot. Canter. Gallop. Walk. Three horses and three women. Hammer could be mistaken for a massive chocolate bar from the Rocky (Road) Mountains. Morez and NY Crossfire (Twix for short) are built for endurance with an Arabian heritage. Their mamas could write a book with their knowledge.  
Senior Anna Iovinelli participated in the Trace the Trail horseback riding competition on Nov. 7 in Athens, TX. There was a max of seven and a half hours to finish the race; Anna finished in five hours and 21 minutes and placed 11 out of 32 riders.
"I started getting into endurance riding like my junior year, and this is the first endurance ride since COVID," Anna said. "I decided to do it as my senior project, and [it was] also something I wanted to do."
The race was 30 miles long in total, but it was split up into two 15 mile paths, where there was a vet check before they started, after the first 15 miles, and then at the very end. The pre-vet check makes sure the horse is in shape to ride, the halfway check makes sure the horse can continue and the final check looks to make sure that the horse is healthy.
"I want to be a vet in the future, and so part of the whole endurance ride process is the vet check," Anna said. "At my first endurance where I shadowed a veterinarian, was able to kind of see what all they went through which plays a huge factor in the ride just making sure that your horse's hydrated, is in good condition and doesn't have an lameness issues. It was just kind of to get more hands on experience and learn more about equine medicine."
At the competition, Polly Iovinelli, Anna's mom, rode with Noel Freeman, Anna's mentor, and Anna for 15 miles. Noel and Anna completed the last 15 miles themselves.
"Once they say trails open, everybody heads out," Freeman said. "I stayed in front of her the whole time to kind of moderate speed because it's very easy for a horse that's never done this to just take off with the rider and that can be quite dangerous. So, by me being in front, I was able to help control her speed a little bit until her horse calmed down a bit." 
The sandy areas at the event caused Anna, Polly and Freeman to go down to a trot for the well being of the horses. 
"We go through trailer to different areas, and then we'll do long rides," Anna said. "Sometimes we'll launch the horses. The weather plays a huge factor because if it's been raining, we can't ride the trails because it's muddy. If we were to return to an arena, we can do that but the best place to train is just on the trails riding your horse."
While riding Morez, Anna's horse, she must "remain confident and calm" since the horse feels what the rider feels.
"When we first start the ride, the horses are really anxious because so much is going on," Anna said. "It's kind of called race brain, and so sometimes I just take a deep breath and circle my horse a few times. Then we kind of get straight, and then we go."
Freeman started riding in 2011. She trains with Anna and her mom on her horse (Twix), aiding Anna with answers to her questions. 
"There's a lot of things that she has to learn, well anybody starting has to learn about how to condition your horse, how to feed your horse, about the correct type of tech to where for the horse, electrolytes, taking care of yourself on the ride, taking care of your horse, and all the different things that are required at the actual ride," Freeman said. "The campaign, the feeding, the taking your horses through vet checks registering your horse. There's a whole bunch of different things that a newbie wouldn't really know offhand, so I'm just kind of here to answer questions. We go on conditioning rides. I have a heart rate monitor that I let her use, and we check our horses heart to make sure that he is really fit."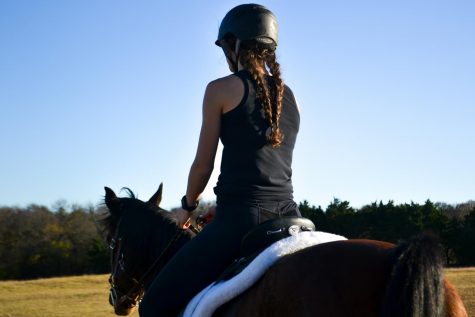 For her senior project, Anna recorded parts of the race with a GoPro. 
"She has a good balance," Polly said. "This is what I love about her because she cheers, and she runs track. I try to tell her 'You need to be a kid and enjoy all the things in high school and have fun. Then, if you have time for this, let's do this too.' She definitely makes time for it [horseback riding]. even with her schedule she makes it a priority to do this part of her life too because she loves it, and she's passionate about it."
Anna has been riding since she was eight years old. 
"Sweet," Polly said. "Funny but if we're talking horses, competitive. I was like 'Remember it's just a trail ride like any other trail ride,' but know when she gets into that camp and all those other riders are in there and other horses, it's game on."
The Iovinelli's have two horses, Hammer and Morez. They are bringing them back home for winter, but the horses in the summer board land off of Winningkoff Rd. 
"We take care of each other," Anna said. "I expect him to perform and be the athlete that he is, and then it's my job to take care of him in sticky situations."
Polly and Anna ride trails together on Trinity Trails which Polly said is "like a paradise." 
"I would say we're both outdoor girls," Polly said. "We prefer to be like I'm right now I'm at the barn, doing a fire pit. We love to be outside at the barn, brush the horses out [and] riding the trails. That's our love, but we spend a lot of time riding together. I love every minute of it. [I'm] sad she's a senior because she's going to be leaving me, my riding partner."