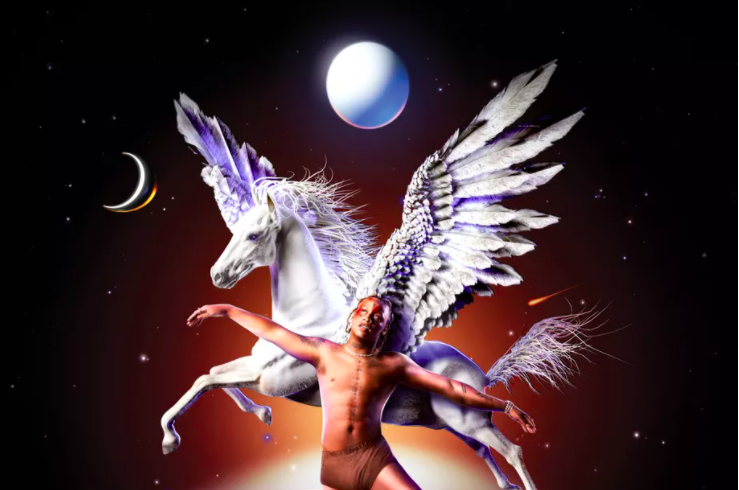 Courtesy of REVOLT
Rap artist Trippie Redd released his newest project "Pegasus" on Oct. 31. Trippie has already released "A Love Letter To You 4" earlier this year. "A Love Letter To You 4" had a few skips throughout it but was not a bad project. 
Trippie's new album consists of 26 songs starting off with "Let it Out" ft. Myiah Lynnae. Trippie lives up to the name of the song and lets it all out in this one. This song could be called comforting, where you can just sit back, relax, and listen to the lyrics, and by the end of the song, you feel much better. Not many other songs included on "Pegasus" are similar to the calming feeling produced by this one, so if you are listening to the album all the way through, don't expect that feeling for too long.
Trippie Redd's albums always include a song called "Love Scars (1-4)," which happens to be a fan favorite. "Love Scars 4" on the new album includes Trippie belting his voice out and talking about his love life. Trippie Redd always finds a way to connect with his listeners, and this song is the definition of connecting with your fans. It is not usual for an artist to create songs that relate to one another, but Trippie does this. All four of the "Love Scars" songs have this unique ability to bring out those emotions that one pushes down deep. This is different from most other music because people usually listen to music as an escape from reality, while these songs make reality even more apparent.
A song that has already blown up from the album, "Excitement" ft. PARTYNEXTDOOR has gone viral on social media for Trippie's crystal clear vocals. "Excitement" is a catchy and entertaining song that is picture perfect for a fun night with friends. This is definitely a song that will be played at and dances. This is because the song is just extremely enjoyable and gives off a boost of energy.
Trippie also has the ability to flip the switch from chill to hype very quickly, which is shown from the song "Sleepy Hollow." "Sleepy Hollow" contains fast rapping, and a catchy chorus, which just makes someone rock their car back and forth. This feeling of ecstasy you get when listening to "Sleepy Hollow" is one that you don't usually get from other music. Of course other music can make you feel a variety of emotions, but if you listen to this song you'll get that feeling.
Another example of music that makes you rock the car, would be the song "Kid That Didd," which if someone has a nice, expensive set of speakers will definitely make the room rumble. Although it's an energetic song, the lyrics talk about the climb from the gravel that Trippie went through. It's almost a cliche for rappers to talk about their upbringing because it is so overused, but Trippie has a unique take on "Kid That Didd" that is different than songs similar to it.
"Pegasus" includes a lot of unique features. The song "I Got You" features old school rapper Busta Rhymes, who is most known for his song "What It's Going To Be" ft. Janet Jackson. "I Got You" can definitely be classified as an R&B song with Trippie's smooth flow and Busta's calm, soothing vocals. It's not often that new age rappers feature older ones on their music.  "I Got You" is a nice change of pace from other rap music we hear everyday on the radio, or through our phones.
"Pegasus" consists of a variety of songs for all to enjoy. From energetic and hype songs to music that just makes you feel sorrow. "Pegasus" includes only one or two songs that someone would want to skip throughout the long album. With that being said, this is definitely worth recommending to your friends if you want them to think you listen to good music.
Rating: A-