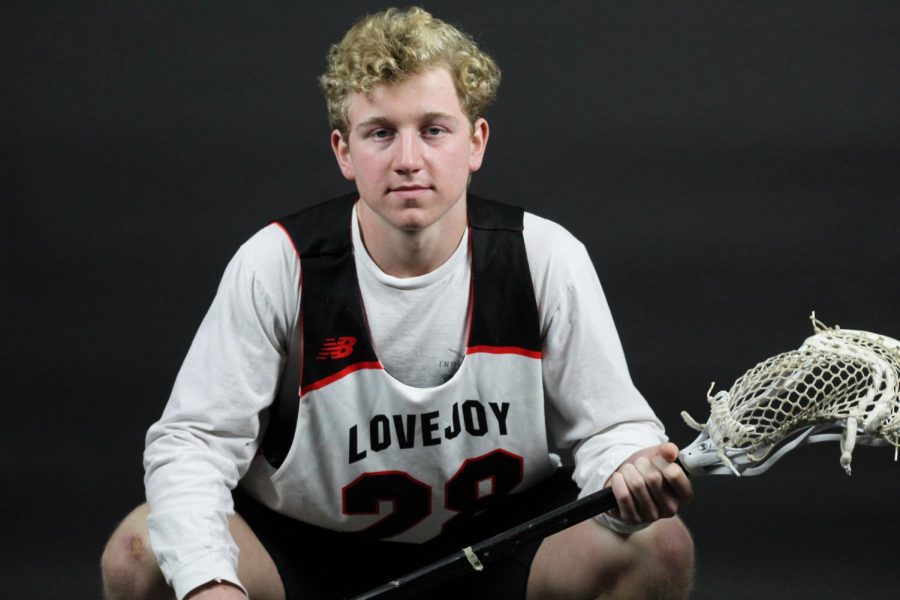 Sydney Stout
Junior Dillon Magee committed to Ohio State University for lacrosse on Oct. 1. Outside of school, Magee plays lacrosse for Long Island Express. 
Pre-Game:
Position: Midfield 
Years of experience: 13 years, going on 14 
Favorite pre-game meal: Chicken parm 
Hours of practice per week: Around 10 
Pre-game ritual: Listen to music, visualize plays
Pre-game song: "Get Money" by 50 Cent 
Post-game song: "Jackie Chan" by Post Malone 
Post-Game: 
The Red Ledger: When did you first start playing lacrosse? Why? 
Dillon Magee: I started playing lacrosse in pre-kindergarten. I grew up in Manhasset, NY, which is a hot spot for the sport of lacrosse. My dad played at Syracuse University in the late 80s, so I'd say those two reasons have the biggest impact on why I picked up a lacrosse stick. 
TRL: What lacrosse team do you currently play on? 
DM: I play for Long Island Express. I played with them when I used to live in NY as well and have ever since. 
TRL: What was your initial reaction when seeing the offer from Ohio State? 
DM: I was very excited. I knew this was the best place for me and where I'd feel most at home. 
TRL: Describe the process you went through to commit to Ohio State? 
DM: I had a very busy and stressful recruiting process in September. Ohio State along with many other respected schools were in the mix for me. What made me realize Ohio State is the place for me was the coaching staff. They consistently spoke with me, and just genuinely believed in me to be a major part of their team in the future. 
TRL: How have you been preparing to play college lacrosse? 
DM: I watch lacrosse all the time. I try to study different dodges, shooting and leadership roles from all college programs. My dad always tells me the best way I can improve my game is obviously putting the work in, and to watch myself on film. So, I try and fit that into my schedule and elevate my game from there. 
TRL: What is your favorite part about lacrosse and why? 
DM: I love the fast-paced, back and forth momentum, and overall intensity of the game. It's a sport where you have to be able to run, no matter what. You are a liability on the field if you cannot. That's what I love most about it. 
TRL: Describe your best memory playing lacrosse. 
DM: In third grade, it was a hot summer night and my town team was playing in the championship. It was a back and forth game and went into overtime. My teammates and coaches selected me to compete in the Bravehearts, and I scored the winning goal. It was our first championship game and all my teammates dog piled on me. It was for sure a great memory I'll never forget. 
TRL: What are your future goals lacrosse wise?
DM: I want to state this year. We lost a lot of great seniors, and also juniors who have moved out of state. A lot of people think we will not be nearly as talented as we were last year but I want to prove everyone wrong, that we will return strong. 
TRL: Did you receive any offers from other schools? Which schools? 
DM: Yes, I did. Yale, Penn, Princeton, Cornell, Maryland, Penn State, Syracuse and North Carolina, along with other schools as well showed deep interest in me. 
TRL: Do you play any other sports other than lacrosse? If so, why did you choose lacrosse as your main sport? 
DM: Yes, I do. I play football and basketball as well. I chose lacrosse because it was the first sport I started playing and loved it the most ever since. Growing up surrounded by D1 lacrosse players, coaches, and even my neighbors who played lacrosse in college, had a major role as well.  
TRL: Who is your role model and why? 
DM: My dad. He works incredibly hard and moved us down to Texas to look after us financially. He has my best interests always at heart and will always have my back. He's taught me the importance of hard work and nothing will come without it. He's helped me so much throughout my lacrosse career and continues to do so. All these I've learned what really being a man really is and how to respect others if you want to be treated the same. I look up to him everyday, amazed by his mind-blowing work ethic. I hope to be just half the man he is when I have a family one day.  
TRL: How has lacrosse impacted your life? 
DM: Lacrosse has impacted my life in so many ways. It's opened up so many opportunities for me to have a list of some of the best schools in the country to attend that some kids do not have the chance to have. Not only that, but to have the connections to set me up for future job experiences and success. From a mental standpoint, it has taught me the power of adversity and how to overcome it. I have had plenty of bad games, and thought about giving up. I had the mentality that there was no point in playing anymore because of how in my head I was. I carry the lesson with me when I encounter any challenges I face. It is just a bump in the road and God will always be there.