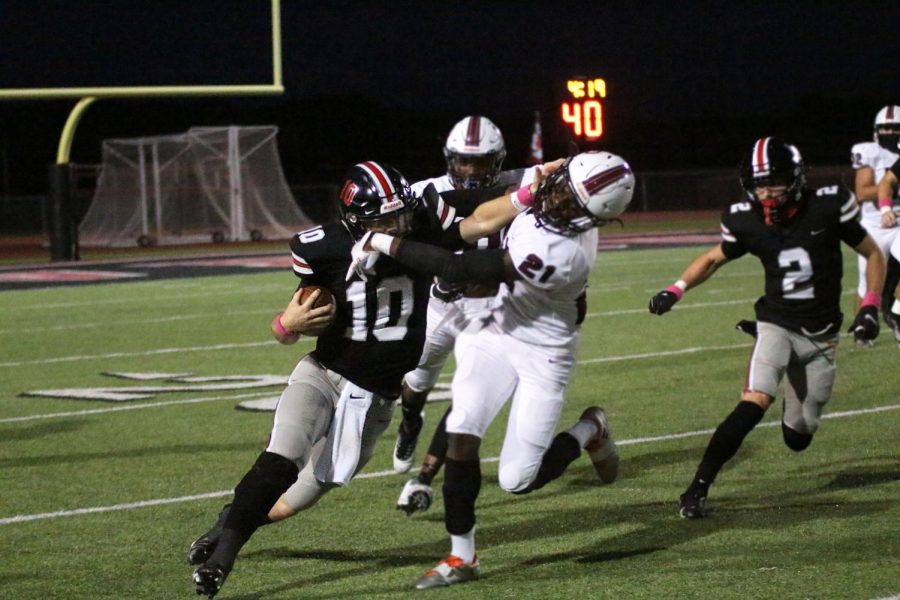 Amiya Callicutt
On Friday, Oct. 9, the Leopards kicked off their 2020 district season against the Princeton Panthers and won with a score of 62-6. The team is currently undefeated as they head into their next district game this Friday against the Denison Yellow Jackets.
"The team was prepared, and I think that they performed very well," assistant head coach Jayson Lavender said. "There's always room for improvement overall, [but]I thought that was a really good performance. I was most proud of the way that they performed at a high level, just because of their preparation throughout the week." 
On Princeton's first offensive drive of the game, junior linebacker Philip Joest stripped the ball from Princeton's Jordan Norvell. Junior corner Adam Eschler recovered the fumble and took the ball to score the first touchdown of the game. "That set the tone of the game," Lavender said. "We felt really good about our scheme against them. We knew how they were going to line up offensively and defensively. That goes back to our kids' preparation and being locked in throughout the week."
In senior corner Isaiah Smith's opinion, winning by 56 points is no different than winning a close game. 
"We believe we were supposed to do that," Smith said. "It's not really anything to celebrate. Winning by that much just [shows] the state what we're really made of. We have a ton of diamonds in the rough."
According to Smith, rather than carrying their momentum from the Princeton game, the team is leaving the Princeton game in the past. 
"We don't focus on the past," Smith said. "We don't look at it as [we are] 3-0 now. We see it as 0-0 looking to be 1-0 by the end of the week. [We have] short term memory whether it's good or bad."
Smith thinks the key to success to beat Denison will be toughness, effort and mental sharpness. Last year, the Leopards beat the Yellow Jackets. 
"We just have to trust each other and we will come out on top," junior defensive back Trent Rucker said. "We aren't looking to just beat a team, our goal is to leave no doubt on the field. It shows that there wasn't just one dominant factor on our team, it was our team as a whole."