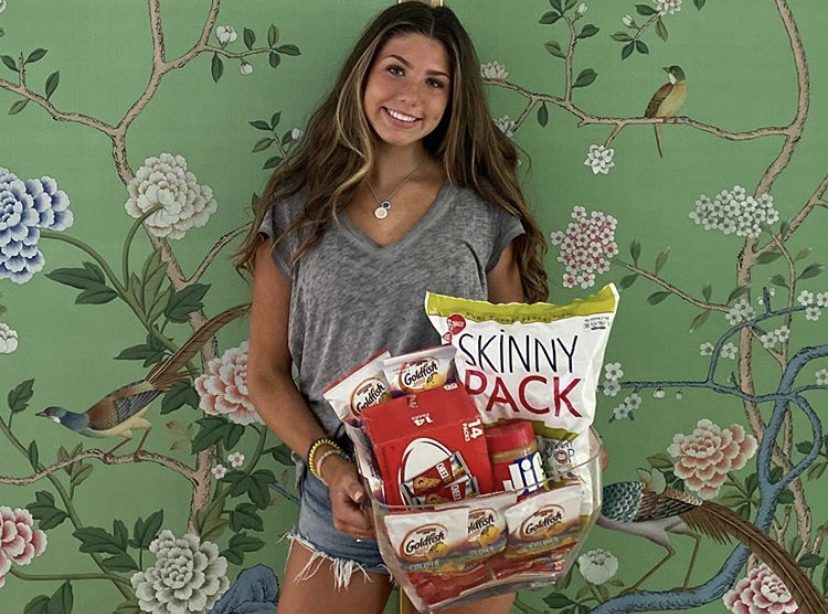 courtesy of @pbjwithlove on instagram
For some students, free and reduced school lunches are something their family relies on, and because of COVID-19, these students haven't had the same opportunities. Food drive PB&J with Love aims to provide for these children and help end the hunger in the community. Junior Ainsley Abernathy is an ambassador for this organization.
"PB&J with Love is a service organization started in 2016 by Madeline Winterle, who is currently a junior at Bishop Lynch High School in Dallas, TX," Ainsley said. "It is a group with the goal of helping neighbors in need and building a strong sense of community by making it safe and easy for people of all ages to engage and give back."
With the help of ambassadors and volunteers, the service organization has been able to collect many different items. 
"To date, the program has donated over 92,000 sandwiches, 3,900 cookies and 3,800 after-school snack packs for students and families in need," said Angela Winterle, Madeline's mother and co-founder of PB&J with Love. 
Ainsley has been involved in the program since it began in Dallas, but more recently, became the official ambassador for the district, so that the program could be spread to other nearby high schools. She has helped collect donations from students and neighbors, as well as helped host drives. 
"Recently, we have been providing items for lunches and after school snacks for Dallas ISD (DISD) students, while in the past, we have donated art kits to DISD schools and after care programs," Ainsley said. "When we hear of a need, we try our best to help out and call upon friends, neighbors and local groups to partner with us, with the hope of lifting our community up and coming together. It has been wonderful to witness such generosity, and we are grateful for all of the support we both receive and are able to provide."
Over the past five years, the organization has expanded across the metroplex, and now provides a variety of food and school supply options. 
"[The] charity started about five years ago to feed those in need; it started with just making PB&J sandwiches and then expanded to snack packs, and also art kits," Madeline said.
Angela has recognized Ainsley for the time she has given to the program, from planning and executing her first food drive to spreading the word about the organization on social media platforms.
 "Ainsley's bubbly personality and caring heart, along with her strong leadership skills, make her an awesome ambassador," Angela said."It has been wonderful to witness such generosity, we both receive and are able to provide and we are so lucky to have Ainsley on our team helping us spread kindness and squash hunger."