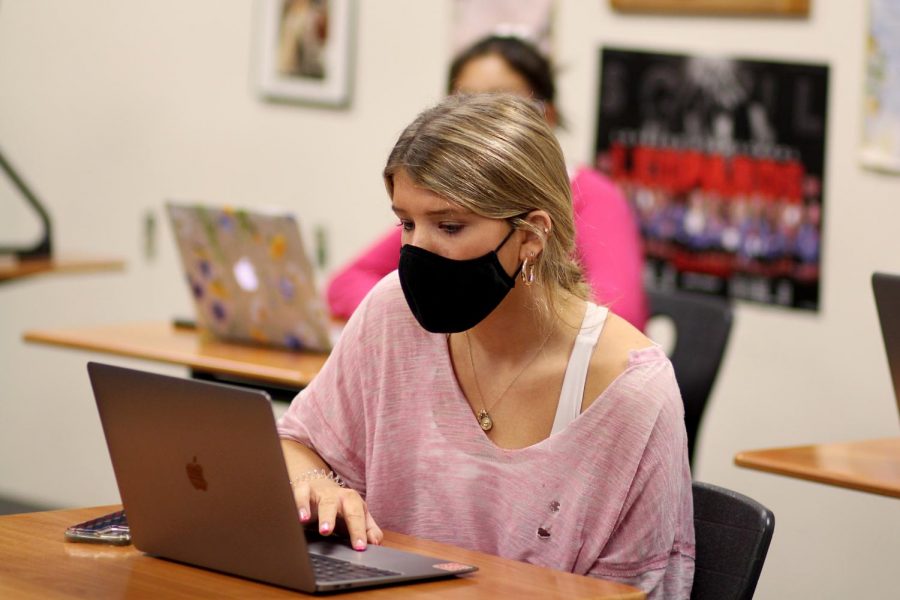 Sydney Stout
As students and staff members transition back to school in person this week, they are experiencing a different schedule style and new classroom procedures to increase safety measures.
"I am very pleased with how school has started," assistant principal Jeff Roberts said. "It is great to see kids back on campus, and I cannot wait for our athletic teams to start competing on a regular basis. Students and staff are doing a great job of handling this difficult time during the pandemic."
Students are learning to adapt to guidelines set in place for the school setting to ensure the health and safety of everyone that is on campus.
"Everyone is very compliant with our rules, since they understand the reasons behind them," assistant principal Julie Hirsh said. "Students are following the mask requirements, and they are staying socially distant in the commons at lunch and in the classrooms. They are learning the new procedures, and they are respectful with the staff when asked to help clean and to follow health guidelines."
Though face-to-face learning is in session, students still do not attend class on campus every day.
"I think I have more appreciation of being at school this year than last and previous years," senior Chief Collins said. "I [used to] take school for granted, when really,I am fortunate enough to have a chance to learn."
For teachers, it is the first time  they have seen many of their students since last school year.
"I've loved the first week of school just because [students] are back face to face," family and consumer science teacher Michelle McClelland said. "Even though it's only half of [my students], I'm still super excited about it."
As the year continues, the procedures set in place will evolve and change according to the situations the community may face and what administration sees fit.
"My hope is that students, families, and staff will remain healthy, and we will be able to return to Lovejoy high school as we know it," Hirsh said. "However, in the meantime, I wish for our students to learn a lot and to experience happiness, engagement and school spirit to the best of their abilities."