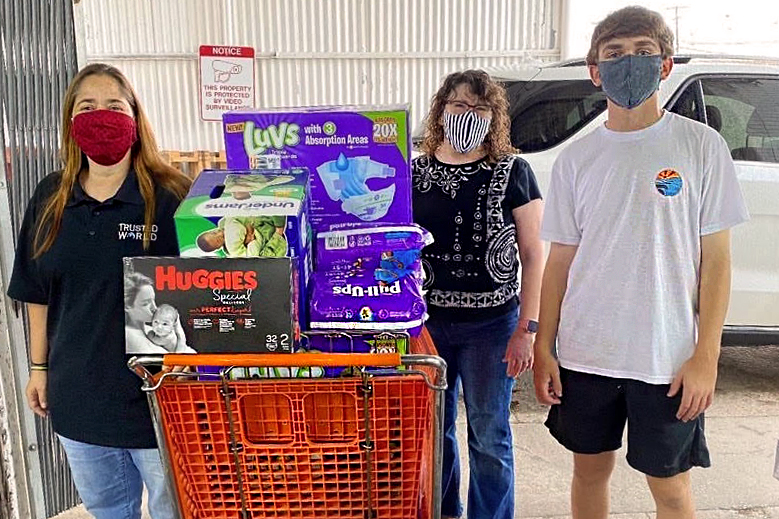 Courtesy of Stone Scalf
Towards the end of August, senior Stone Scalf hosted a series of donation drives in which he collected items to give to Trusted World, which caught the attention of CEO Michael Garrett. Trusted World is an organization that helps police stations, schools, homeless shelters, churches and other nonprofit organizations in the DFW metroplex by giving them donated supplies to help run their specific organizations, or to pass the supplies on to other people in need.
 "I [had] three donation drives," Scalf said. "The first drive was for diapers, the second was for food cans and the third was for hygienic products."

The supplies that Scalf collected will  be distributed to families in homeless shelters.  
"Trusted World gets requests from people in need of clothing, food, hygienic products, things like that. Trusted World meets peoples' needs by giving them the supplies they need to survive and to get back on their feet," Scalf said.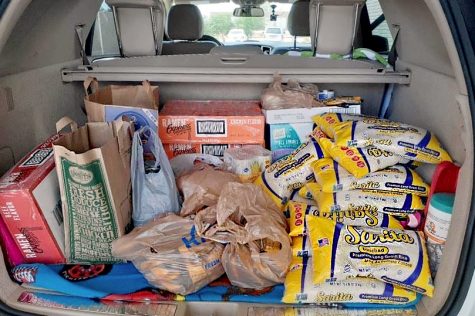 Scalf had been volunteering at Trusted World for about two years before deciding to start his own drive. 
"I met Stone almost two years ago when he first started volunteering at Trusted World," Trusted World service center manager Courtney Weaver said. "I could tell immediately that he was an amazing young man. He always gave 110 percent. So, when he reached out to us this summer about doing, not just a food drive, but a diaper and also a hygiene drive, we were so grateful but not surprised. That is just the kind of young man he is."
Michael Garrett, CEO of Trusted World, recognized Scalf for his work in helping the community.
"Stone has shown us drive and determination by doing donations drives for us," Garrett said. "I am very impressed to see this level of compassion from Stone and the ability to do something about it."
Scalf plans to work with Trusted World more in the future, possibly by hosting more donation drives.
"They're [Trusted World] a great organization," Scalf said."I like what they do, so I want to help them help other people that are in need."