Tapping into greatness
Animation teacher Ray Cooper reflects on career upon winning District Secondary Teacher of the Year Award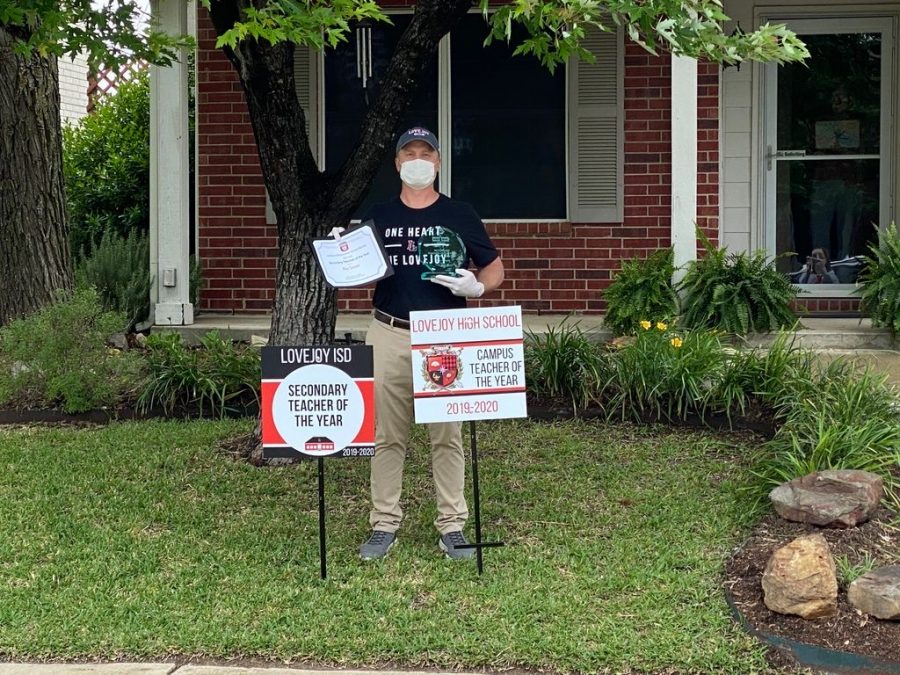 When Ray Cooper thinks of admirable teachers (and he knows he can't name everyone), a select few cross his mind immediately.
Keith Christian, who is "just a great teacher."
Andrew Stallings, another "great teacher."
Sadaf Syed, again, a "great teacher."
They're the teachers he thinks of and wonders, "Aw man, I need to sit in on their classroom, and I need to see how they teach their content."
Then there's other teachers, like Brice Macasland, Jeff Seidel, and Amanda Beller, whose "great relationship with their kids" Cooper finds praiseworthy, and something he struggles to find some days. 
Despite more than 20 years of teaching under his belt anywhere from sixth grade science to the animation he teaches now, Cooper believes he's not the best teacher he can be, and maybe he never will be. 
"
The award and stuff, that's all great, but when your peers are looking at you and they know you're a good teacher because they would want to be in their classroom and experience your content, that's what feels good."
— Ray Cooper
And although the recently awarded Heart of a Teacher Award, Lovejoy High School Teacher of the Year Award, and District Secondary Teacher of the year award sit on the desk in front of him (he promises he "doesn't always keep these around"), he still believes he's got things to work on. 
"Maybe this is a little realization I'm going to right now in front of you here," animation teacher Ray Cooper said. "I'm driven to make sure that I prove that I am a good reacher now, you see what I'm saying? That drive is not 'Oh I've got to get all the awards.' The award and stuff, that's all great, but when your peers are looking at you and they know you're a good teacher because they would want to be in their classroom and experience your content, that's what feels good."
"It's different knowing biology and teaching biology."
Cooper's journey to the high school started at Curtis Middle School in Allen ISD where he taught eighth grade science.
"I think every year I've kind of done something different," Cooper said. "The next year, I did sixth grade science with some tech certification, then I started taking over some of the video broadcasting stuff. I was the Barb Smith a couple teachers before Barb Smith came around. I moved back to the high school, where I was teaching five classes I had never taught before."
After teaching almost solely animation for the last few years, Cooper said he feels he's better at facing the challenge of "how do you teach this, how do you teach," but still thinks he's not the best teacher he sees himself being. With the transition to being a high school teacher, Cooper said knowing students was his "saving grace."
"I feel like I've missed out on getting to know people," Cooper said. "As I look at the graduation list right now, there's not a lot of people that I know. I used to know a lot of people because I moved up from the middle school to the high school, so as I would look at those former graduation lists from 2015 or 2013 through about 2017, I knew everybody. School's different when you can make those connections with people when you walk down the hall."
Business teacher Chasity Lynch has worked with Cooper for more than 10 years, including time at Curtis Middle School.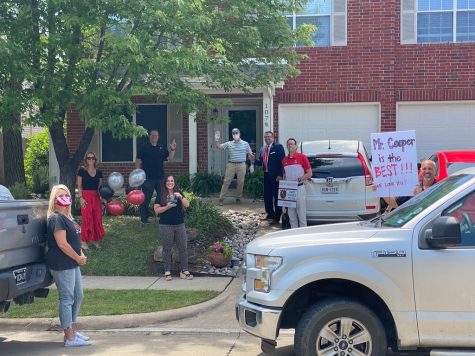 "Mr. Cooper is approachable, dedicated and realistic," Lynch said. "I appreciate his knowledge and true character that he always exemplifies to our team, community and students. Ray is an inspiration to many educators, especially our department, and for me, personally, he is what validates the true love and passion we have for the ones we serve, the learners and the community."  
Although he may not see quite as many familiar student faces in the halls as in 2015, as the electives department chair, Cooper tries to be a leader for "the island of misfit toys" teachers he engages with in his department meetings. 
"Even though I'm not confident myself sometimes, I've tried to instill confidence in them that we're doing the best we can," Cooper said. You might feel like you're a crappy teacher with this online [schooling] because you're spending more of your time tracking students down and emailing and all that, and you're used to having this connection in the classroom, but that's not indicative of who you are as a teacher."
"Kelsey comes to my class to learn animation, Kelsey will leave my class having done animation, but what did we miss?"
There's a drive to improve that keeps Cooper going: a drive to build better relationships, a drive to better teach curriculum, you name it and Cooper has a drive for it. After more than 20 years of teaching, Cooper manages to keep up with students whose high school days are far off. 
"I'm always trying to tap into alumni that are out in media programs, animation programs, SCAD, MICA, places that. I'll always try to tap into them like 'What are you learning now that you wished you'd learned [in high school]?' and I look at what we've covered in my class that would've helped you more."
The District Secondary Teacher of the Year Award gives credit to Cooper for being someone who has "great things happen academically, they're people of character, they're giving back through service, they're engaged in a healthy lifestyle," as superintendent Dr. Michael Goddard puts it. Cooper knows he has the "tricks and the strings that you can pull" to get students engaged in his classes, there's still a future of teaching ahead of him.
"There's still a lot for me to learn," Cooper said. "Just because I have that relationship piece and people enjoy my classroom and things like that, there's still so much to learn. I look at Keith Christian as going on his 34th or 35th year of teaching and I just wonder, gosh, will my 35th year of teaching be any better, will I feel like I'm any better?" 
Especially this week, following many congratulatory Zoom calls and complimentary Twitter comments, it's no surprise Cooper has had his fair share of "you're a great teacher"s from peers and students. However, Cooper says buying into the mindset that accompanies such compliments can't happen.  
"I feel like if I bought into 'Oh you're right, I'm a great teacher. I need to put these signs back up in my yard and these certificates, I need to make duplicates and put some in my classroom.' I think if I was to buy into that, I could see myself being lazy and not growing. It's not my nature I think to buy into that." 
As a teacher, Cooper finds himself having to be "super self-deprecating" in order to ease the tensions of others in the classroom (key to the Coop's Cave environment). When it comes to dressing up as a zombie annually, playing musical chairs in front of the entire school, or leading his class in a lesson, only one thing crosses Cooper's mind.
"I don't know if I've ever said this to anybody," Cooper said, "Not that it's anything grand, but I always just picture what Will Ferrell or Robin Williams will do. Kind of picture, ya know, if I could just act out my mind, if this was a scene of Step Brothers, how would Will Ferrell do it?"
"
It's been super exciting, and it's very humbling." 
On Monday, May 11, Cooper was recognized as the Lovejoy High School Campus Teacher of the Year during a Zoom school board meeting. Alongside five other recipients at each respective LISD campus, Cooper was nominated out of a pool of "Heart of a Teacher Award " recipients, a monthly award given out on each campus during the school year. Cooper was selected by his fellow high school teachers as the campus' teacher of the year. 
"I think what's unique about this award and what makes it special is really that he's selected by his peers, and that it was the other teachers that saw those great qualities in him," principal Chris Mayfield said."I think it's really special." 
Cooper said the Heart of the Teacher award, brought about by Goddard, helped lift the spirits of teachers going into the school year.
"Teacher morale was really, really low, wondering if you're gonna lose your job, wondering who the new superintendent is gonna be, what's gonna come in and how that's gonna happen," Cooper said. "One of the things that Dr. Goddard was very cognizant of was that morale was super low, and so he really came in with a splash." 
Goddard, the creator of the graduate profile during his time as Lovejoy High School principal, said he brought the Teacher of the Year award to the district to highlight those who exemplify the characteristics described in the graduate profile as educators.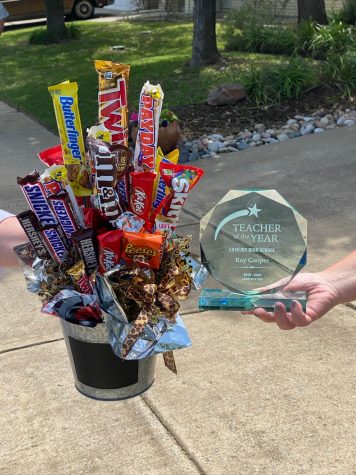 "Mr. Cooper and I actually went to high school together," Goddard said. "He won the award because he makes great connections with kids, but he was one of those guys in high school that just made connections with everybody. Everybody loved Ray, and he made great connections, but he's continued that into being a teacher and does some terrific things academically with kids and most meet their passions." 
Upon receiving the Campus Teacher of the Year Award, complete with a yard sign, certificate, balloons and a candy bouquet delivered through a socially-distanced drive-by from various school board and administration members, Cooper was surprised a second time just one night later, receiving the District Secondary (grades 6-12) Teacher of the Year Award on Tuesday night. 
The District Secondary Teacher of the Year Award winners were selected from the Campus Teacher of the year winners, who filled out an application in order to be considered. 
"All these cars pull up…and of course my neighbors thought I was being raided or something," Cooper said.  "It's kind of a narrow street, so people start getting out and it's like 'What the heck did this guy win? The Publishers Clearing House Sweepstake or something?'" 
The second award was accompanied by its own drive-by, yet another yard sign and an "even bigger trophy than the other one" according to Cooper. 
"People may or may not know, but he encourages people all the time," Goddard said. "He's been to my office several times just to encourage me on days he knows I was having a rough time. He just does a phenomenal job. He's a great picture of what we do in Lovejoy. I'm thrilled that he won the award."
Cooper will have the chance to move onto further awards including Region 10 Teacher of the Year, State Teacher of the Year, and National Teacher of the Year following his nomination in the district.
"It's been a bit embarrassing to say the truth.
"
Cooper repeatedly says he hopes he doesn't come across conceited or unappreciative when he speaks out about his recent awards, and his peers and students would know he doesn't. But when "every" Zoom call felt like "some new news about Ray Cooper winning another award," Cooper said the introverted and extroverted sides of him fought for balance.
"I had to stop looking at teachers when [principal Chris] Mayfield would announce things about me," Cooper said. "It was making me very self conscious, making me think 'Oh gosh man, these people are just beaten down, another award for Ray Cooper,' ya know? And I say that jokingly, I've had so many people reach out to me and say congratulations, they voted for me ,or they couldn't have [hoped this] happened to another chap, which I really appreciate." 
Knowing how hard the high school teachers work, Cooper said he would've been happy for any finalist to win the award. 
"
I look at it as throwing pebbles or rocks into water. You send ripples through people's lives and then they send ripples. I  know the good that I've done, whatever that's been, has helped other people."
— Ray Cooper
"The introvert side of me was like 'No, make this end,'" Cooper said. I would've been so happy for somebody else to have won this. I'm super grateful, but the introvert side of me is like "Shine the light somewhere else.' The truth is, I've been a bit of a nervous wreck over all this."
Pre-calculus teacher Andrew Stallings said Cooper ("Ray, I call him Ray") is helpful to every person he sees needs it, and is there for each of his students.
"Ray is giving without expectation of anything in return," Stallings said. "Coop is there in a flash if you ask him for help of any type. I think of Ray as a kindred brethren spirit, and I look forward to the day when we can spend time together outside the scope of service to our excellent district."
"What's your legacy?"
Cooper will eventually retire, and of course he cares about the animation program at Lovejoy High School. He'd like to see it be a growing program and get stronger as the years pile on. However, he's more concerned about his students: worried about his kids, what happens to them when they leave, and what's going on in their lives. 
"I look at it as throwing pebbles or rocks into water," Cooper said. "You send ripples through people's lives and then they send ripples. I  know the good that I've done, whatever that's been, has helped other people. I've made them a better person at some point, just as other people have made me a better person and that's my legacy."
Senior Melody Quintero said Cooper understands the stresses and obligations high school students encounter, and takes them into account in the classroom.
"What I really like about him and his class is that he gives us this safe space and this little sanctuary in his classroom where we can have fun and we can do something creative, and we can ultimately wind down after a hard day of work," Quintero said.
Whatever job he finds himself doing, Cooper said he'll be trying to help people, trying to bring people up, and trying to build capacity in other people. His casual advice for students, and himself,  includes (but isn't limited to) the following:
"The needs of the students are more important than the comfort of the teachers," written on an old sticky note he used to have stuck to his computer.

"It takes a village to help people," taken from a Hillary Clinton book (of which he has a signed copy bought for a

great

price)

"You've got to believe in yourself."

"You've got to make your own life, make your own destiny."
"Will I have a brick in the courtyard?" Cooper said. "Who knows, but bricks fade. How you treat people, and how they remember how you reached them, that's really what I remember about my teachers."
About the Writer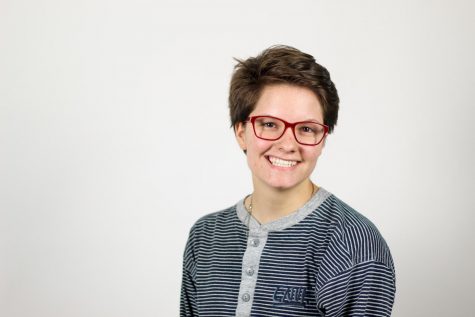 Kelsey Carroll, Section Editor
Senior Kelsey Carroll has never owned a dog or a cat, but she's the proud caretaker of two mini cacti living their life on her windowsill, and she thinks...