A Date to Remember
Married teachers return after birth of second son
Annastacia Daugherty walks into her master bedroom with her son, Owen, by her side. Tim Daugherty lies sick in bed, his mind foggy. Annastacia shows Owen to Tim, talking about his new "big boy pants," hoping Tim will notice something written on Owen's shirt. 
"Oh, wow buddy. Oh good job! You're wearing your big boy underwear. Yay!" Tim remembers saying to Owen, still not noticing the shirt. 
Finally, Annastacia asks Tim about whether he likes Owen's new shirt as a hint. Tim looks down at Owen's shirt, reads the words "best big brother," and after his groggy mind finally puts things together, his eyes open wide, and he goes to hug Annastacia, elated to have an addition to his family. 
---
Preparation
Around nine months later, the Daughertys are in the midst of preparing for their parental leave. Annastacia can't help but compare the maternity leave she's allowed in the United States to the maternity leave she was allowed in the United Arab Emirates (UAE) when they lived there a few years ago.
"So it felt like in the UAE the way the government structured the maternity time, they really valued family leave whereas in the U.S., I think everybody knows that family leave is one of the biggest shortcomings, and there's no paternity leave really, either," Annastacia said.
But nothing will change before Kian's birth. So Tim can't take off more than a week of school and Annastacia chooses to take eight weeks — four weeks less than the maximum amount allowed.
"For me, I want to take off through Thanksgiving so then I'll have those two weeks back in December as a trial-period just to see what life is like with a baby and with the part-time schedule," Annastacia said. "And then I'll have Christmas off, so then I'll be prepared in January."
Other than planning the maternity leave, the Daugherty's plan by designating who Owen will stay with (Annastacia's father or a neighbor two houses down) while she's in labor, buying new baby materials, and looking for a day-care center. Thankfully, Annastacia's coworkers threw her a baby shower so the cost of the new materials isn't as much. As for the day care, the Daugherty's decide on an in-house day care center recommended to them by some colleagues.
As the due date nears, Annastacia works more on her lesson plans hoping to have a full two months of material planned. Then all that's left is to wait. 
---
The Big Day
Some months after preparations began, Annastacia wakes up around two or three in the morning from contractions. Tim lays beside her still sleeping, unaware that today could be the day. When Annastacia tells Tim about the contractions, he insists on staying home from work. Annastacia tells him he doesn't need to, but Tim insists and the pair plan on spending the day together. 
Around 3 p.m., the contractions become strong enough that the Daugherty's go to their hospital, Baylor, Scott & White in Mckinney, to check Annastacia in. There's one problem though: Annastacia's cervix hasn't dilated enough. So, the physician gives them an option: check Annastacia in and wait hours for Annastacia's cervix to dilate enough or go out. Maybe even out on a date. So they go to dinner at 7 p.m. at Harry's at the Harbor, a restaurant about 15 minutes away from Annastacia's hospital.
"The funny thing was that at dinner, I told [Annastacia that] we should mention that [she's] in labor and just freak out the waitress," Tim said. "And so, it was kind of good timing."
After remarking on how promptly the waitress served the food, Annastacia asks "oh, could you tell that to this baby?"
The waitress congratulates the couple, asks the due date and Annastacia's answer is "now. The baby is due now."
The waitress freaks out just as hoped before the Daughertys assure her that everything is ok. She continues to peak around the corner and ask "are you okay" throughout their dinner though.
The experience is so surreal to Annastacia that she's sure that date will enter family lore. The date doesn't just end with dinner. Next the Daugherty's head to a movie theater to see Downton Abbey. The couple sits in the back row so as to be able to leave immediately if necessary. 
" 'Do we need to go back, do we need to go back?'" Tim asks many times. "She [was] like 'no,' 'just sit down,' 'watch the movie.'"
Despite the contractions, Annastacia enjoys the movie until its end when the Daughertys return to the hospital. All in all, Annastacia was in labor for 36 hours before Kian's birth on Oct. 4.
"I just immediately started bawling," Tim said. "My wife was bawling, you know, holding our baby, just like 'my baby. My baby.' She [was] just saying that kind of thing holding him. That was just a wonderful, beautiful day." 
---
First Day Back
Dec. 2 is Annastacia's first day back at school since Kian's birth and Tim's first day back since Thanksgiving break. She and Tim both expect it to be difficult, more so for Annastacia who had never been away from Kian for longer than two hours until that Monday.
The Daughertys drop Kian off at the in-home daycare they had decided on months ago, and Annastacia has to remind herself that she is comfortable with this. Yes, she hasn't known the daycare provider very long, but she likes the reviews she has heard, the way the provider treats Kian, and the home. 
The work day goes much like expected. Annastacia gets through the day without tears at the thought of being away from Kian for hours. Annastacia's work day ends half-way through, so that she can take classes as a graduate student at the University of North Texas. So she sees Kian before Tim does when he returns home. 
The same schedule continues, mimicking the schedule of many other families across America.
---
The Size of the Difference
The differences between the U.S. and other developed countries regarding family life starts with maternity leave. 
According to the explanation of the Family and Medical Leave Act (FMLA) of 1993 on the U.S. Department of Labor's website, FMLA "provides certain employees with up to 12 weeks of unpaid, job-protected leave per year." Due to this, having both parents take parental leave is not usually economically prudent. 
Annastacia gave birth to Owen in the UAE where laws regarding maternity and paternity leave guarantee longer time periods with more pay.
From The Official Portal of the UAE Government:
"As per Article 53 of Federal Law No. 11 of 2008 Regarding Human Resources in Federal Government, a female employee in a permanent position shall be granted maternity leave of 60 days with full salary.
After that, for 4 months from the date of the employee resuming work, she is entitled to 2 hours' reduced working hours to nurse her child either at the beginning or at the end of the working hours. Such breaks are fully paid for.
As per Article 54 of the same law, a male employee who gets a child is entitled to paid paternity leave for three days during the month of the delivery if the delivery happens in the UAE."
Even within the U.S., the numbers stack up differently. Texas has no laws guaranteeing maternity or paternity leave of its own, leaving its residents with the federally mandated minimum. Other states have taken it upon themselves to guarantee more to their residents.
California enacted its Paid Family Leave (PFL) bill in 2002 and began covering workers in 2004. It does not guarantee as much the UAE does, but it provides more than FMLA provides.
As written on the State of California's Employment Development Department (EDD)'s website, "PFL does not provide job protection, only monetary benefits; however, your job may be protected through other federal or state laws such as the Family and Medical Leave Act (FMLA) or the California Family Rights Act (CRFA)."
The reason why longer paid family leave is so important is because of a positive correlation between the length of family leave and the health of the newborn baby. 
A 2019 United Nations International Children's Emergency Fund (UNICEF) article found that "paid parental leave, both by supporting lengthier breastfeeding and by providing needed income, is likely to improve nutritional outcomes that are essential to healthy development."
The benefits of longer, paid family leave goes beyond the effects on children, however.
Bidisha Mandal, associate professor and extension economist at Washington State University, conducted a study measuring women's mental health with various family leave arrangements on the Center for Epidemiologic Studies Depression (CESD) scale. Higher scores show greater symptoms of depression and vice versa for lower scores. Her study shows the effect of different family leaves on women. 
"The average CESD score of women who returned to work was 0.15 standard deviation (p < 0.01) lower than the average CESD score of all women who worked full-time before giving birth," Mandal wrote in her abstract. "Shorter leave, on the other hand, was associated with adverse effects on mental health. The average CESD score of women who returned within 12 weeks of giving birth was 0.13 standard deviation higher (p < 0.05) than the average CESD score of all women who rejoined [the] labor market within 9 months of giving birth"
Information like this is what led Tim to ponder America's commitment to family back when he and Annastacia were planning their leaves of absence.  
"For America it's really about productivity, what you bring to the workforce and that's obviously incredibly important, but there's that cost — the opportunity cost — of working hard and working longer hours and then missing out [on] time with family," Tim said. "[I hope that] when [high schoolers] get to the point of wanting to have kids and maybe having kids that there have been changes in those [parental leave] laws to really protect [family life]."

Teaching during Pregnancy by Red Ledger Graphics
About the Writer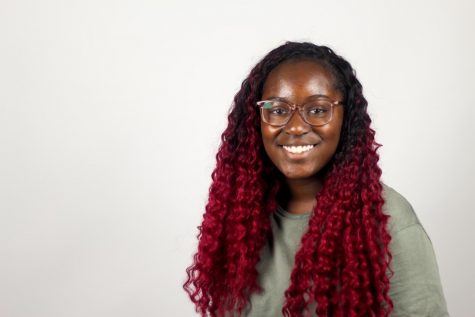 Suvwe Kokoricha, Staff Writer
Senior Suvwe Kokoricha was once the jack of all trades and master of none. She tried everything from soccer to painting lessons to spelling bees (you can...