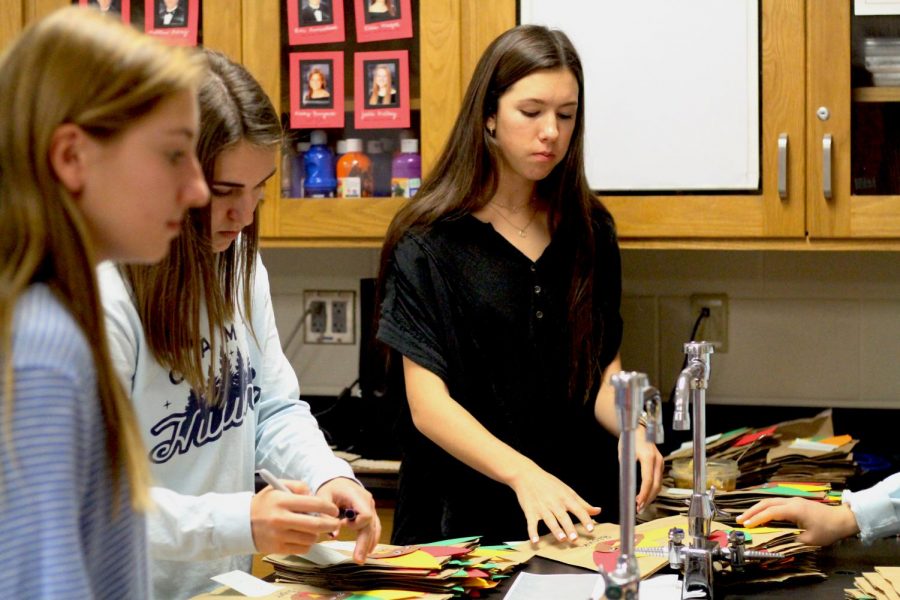 Jade Owens
Ever since freshman year, Lily McCutcheon wanted to become her class' president. As a senior, she is the 2020 class president, Key Club president and captain for the cross country team. 
At a Glance
Favorite song: "On and Off" by Maggie Rogers
Favorite fast food: Village Coffee
Chicken or Burger: Burger
Favorite clothing brand:  Outdoor voices
Dream job: Run a non-profit
Looking Deeper
The Red Ledger: How did you get elected class president for 2020?
Lily McCutcheon: For student council I was elected president last May, after being the Vice President my junior year and secretary my sophomore year. I was also in student council for all of elementary and intermediate school.
TRL: What is it like being the class of 2020 president?
LM: [I] have to plan [events] like Senior Prom, class reunions. [The student council] also did Senior Gifts, which is a gift we give back to the graduating class 
TRL: Why did you want the position?
LM: I wanted this position because ever since freshman year I wanted to be student council president. I felt it would be a great opportunity to be in a position of leadership where I could learn how to lead a council, plan school events and work with people inside and outside of the high school.
TRL: What is the best part of the job? 
LM: I love working with all of the student council members and especially my advisor Mrs. Dollinger. It is so much fun to lead student council because we do something different every day that uses creativity and analytical planning skills. I hope to learn greater leadership skills and better by ability to work with others and delegate. 
TRL: What are your responsibilities?
LM: As president I know I will give a few speeches, leading my class by example, being the voice for the class on topics, and mentor the class below us.
TRL: What is the Key Club?
LM: [Key Club] is a community service event, we have cleaned up the Heard Museum or around Christmas time we help them put up their decorations.
TRL: How does the Key Club affect your student life?
LM: Being president of Key Club helps me be more connected with people.
TRL: How do you hope to enrich the experience of students who attend events? 
LM: I hope to enrich the student council by taking the reputation of student council and lifting it up into a respectable organization through serving our school and getting our hand into every event and helping all other organizations. I hope to plan interactive events that bring the student body together and have fun in high school.