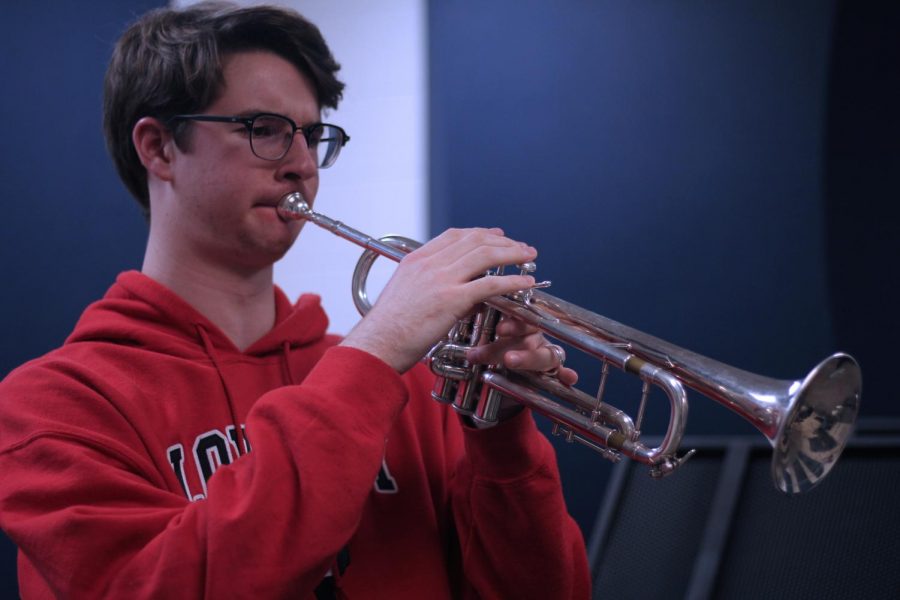 Matt Bolden
His heart beat fast after the audition. He felt uneasy and nervous waiting to know if his month's worth of work paid off. Weeks later, he looked at the results paper and saw the words "first place" and "Joel Reaves" across from each other. He made it. 
"I was nervous, but also I knew that all I could do is do my best, so if I mess it up, I still tried," Reaves said. 
Recently, during his senior year, Reaves received first chair trumpet in the Texas Music Educators Association All-State Jazz  Band. He will perform in San Antonio on Feb. 15 in the Henry B. González Convention center.
"I was so happy that my hard work had paid off," Reaves said. "Making state for jazz had been my goal since last year and finally achieving it took a big weight off of me."
Joel's mom, Pam Reaves, has practiced with him for years and worked with him as he improved to the point he is at now.
"Sometimes people talk about somebody having talent, but they don't realize that, yes you can have some talent, but you really have to have a good work ethic," Pam said. "Nobody tells him to practice, he just goes and practices, and that's the mark of someone who is really passionate."
Growing up in a musical family, with his mom playing harp and piano, Joel has known music all his life. 
"I'll practice my music, and she'll sit next to me, and if I need help with something then she's there," Joel said. "She's like my number one fan and practice buddy." 
Over the years, Joel's practicing habits have improved in particular, according to Pam.
"I have been able to see and sort of have a seat next to him in his progress," Pam said, "because he has really learned how to work a piece and I said, 'well ok you need to [practice] it six more times,' and now he just does it." 
Pam has been involved in the band and musical district events for years, often playing the harp or piano. Director of Band Paul Heuer said that he has noticed her involvement in Joel's musicianship has made "a big difference."
"His mom, especially from a young age, probably pushed him a lot, and when things were difficult she would sit down with him, just like she would if it was math homework," Heuer said. 
Joel has taken on a teaching role in the school as well. He is a trumpet section leader during the marching season, and he also spends time practicing with fellow trumpeters outside of the marching season. 
"Last year I practiced every day during lunch, and Joel would come in every day and challenge me to play in front of him," sophomore Addison Wimbish said. "He made me comfortable playing in front of people who are better than me and taught me to continually work on the fundamentals [through] his actions."
Heuer also said he believes Joel will be able to build a career off of his trumpet-playing abilities.
"He is going to be a great trumpet player, and I think he will be a good teacher," Heuer said. "I think he's going to be a really well rounded player because he does classical playing well and jazz playing well, and will be able to make a living off playing the trumpet and also have teaching on top of that."
Joel said he hopes that he leaves his peers with more than just the impact of his music.  
"I was good at music and I love music," Joel said, "but [I would want to be remembered as] someone that's caring about others- someone who's caring and loves music."
Joel will continue his music career by studying Music Education as his major where he will further expand his knowledge of music.  
"Music education gives me the ability to make a difference," Joel said. "I'll be teaching others and helping them, and that's something that I really like to do."
Besides his achievements at the state and area levels, Joel said he continues to play because of his passion he has in the instrument.
"Trumpet is what I like to do, that's what I enjoy the most," Joel said. "Sitting down and playing, performing, practicing–this is what I like to do, and that's why I keep going."