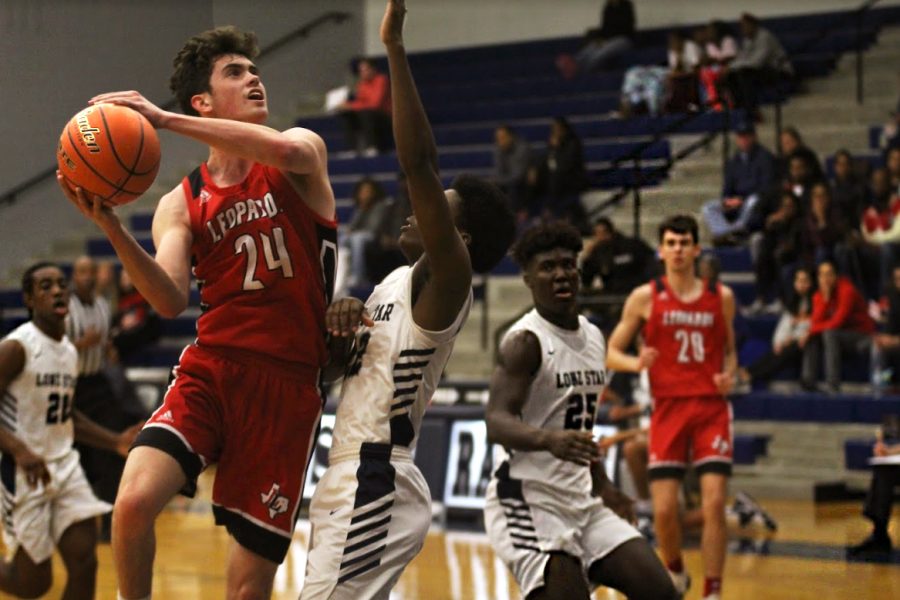 Katie Dolberry
With a current preseason record of 2-7, the boys basketball team looks to head into the Great East Texas Shootout in Brownsboro this weekend. This will be the first weekend senior Kolby McSpadden will be back playing with the team after recovering from a knee injury.  
Last weekend the boys competed in the Prosper Invitational tournament. The team went 1-4 in the tournament with a win over Mesquite Poteet despite losses to Prosper, Little Elm and Lake Highlands.  
Despite a string of losses, head coach Kyle Herrema feels that these losses will be beneficial to the team in the long run. In preseason play, teams generally like to compete against tougher competition than the team will see in district. Over half of the teams the boys have faced have been from 6A.
"I think that if we [had been] scheduled easy [we would] mass over some of the areas that we were not very good at," Herrema said. "These games have been difficult, and they've kind of exposed the areas that we need to get good at."
The boys lost to Prosper (ranked 88 in Texas by Maxpreps) on Friday 50-49.  Junior Reid Westervelt appeared to Herrema to take a charge, but the call was on Lovejoy instead for the one-one. 
"I really kind of feel like that the game was ours and they kind of got hosed basically," Herrema said. "I felt like it but the kids deserved to win that game and so that was a tough one."
Senior Owen Abramson was able to see it as a learning experience. 
"We learned that we can't do anything about [the referee's call] after the calls are made," Abramson said. "So we really we just have to improve on executing and other areas so that even if we do have a bad ref we will still be able to come out on top."
According to Abramson, the team chemistry could still use a little bit of work heading into the tournament this weekend.  
"We're all friends with different groups of people," Abramson said. "I think just being in the hotel with everyone and actually spending a couple nights with the team will help us bond together and learn something different about each individual on the team."
Herrema emphasizes the importance of bonding with your teammates friends by taking the boy's phones during parts of the weekend so that they can focus on making deepening connections with their teammates.
Last year at The Great East Texas Shootout, the Lovejoy boys basketball team were named the champions, and McSpadden was named MVP of the tournament.
In, the spring McSpadden tore his Acl and has been out of basketball since. Last week, he finished his full contact practice which is the last step before being able to play again. McSpadden's first games back will be the Great East Texas Shootout. Going into the tournament, Herrema's goal for him is to get him some playing time during the tournament and making sure he will be a peak condition for district. 
While McSpadden has been out, other players like juniors Mitchell Weaver and Josh Kirkland have had to step up into the point guard position. 
"While nobody is going to fill Kolby's shoes because each player is different and they bring in different skill set of things, but I think the one thing about both Mitch and Josh is that they're hungry," Herrema said. "When Kolby is healthy, we're going to have a lot of good depth at [point guard] too."
According to Abramson, McSpadden can only improve the quality of the team's game. 
"We should still play the same way we did when we had Mitchell and Josh but having Kolby who's got D1, D2 talent on our team is just exciting because you know that there's nothing that can hurt us, it can only add to our team." Abramson said.