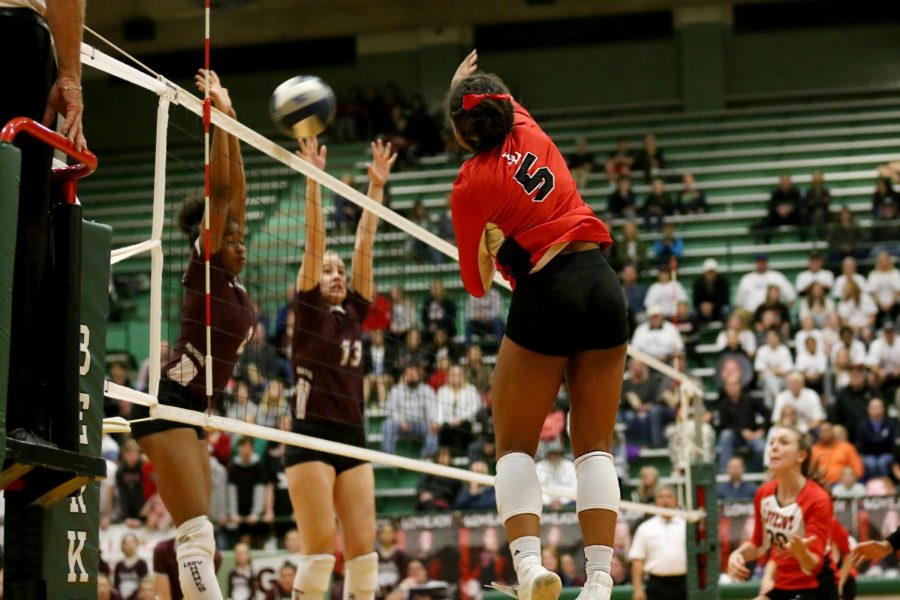 Olivia Lauter
The volleyball team (46-5) will march on to the state semifinals where they will face off against the Friendswood Mustangs (34-17) tomorrow at the Curtis Culwell Center in Garland at 1 p.m. Students will be allowed to leave school after second period, and a release form has been emailed to parents for students who wish to attend the game. Students are still expected to be in class for first and second period.
"Our team has remained steady in the playoffs," head coach Ryan Mitchell said. "I think that if we are able to serve aggressive and be consistent on defense, we can beat Friendswood and advance. At this point of the year, all of the teams are really good and well coached so they will present some tough challenges."
Friendswood is currently ranked 105th in the state and also finished their district undefeated. Lovejoy is now ranked 3rd in the state and 19th nationally. The Leopards have recorded more kills than the Mustangs this season, but the Mustangs have had more blocks. Both teams are evenly split in digs, serving aces, and receptions. 
"We have been working hard on watching film and game planning for our match vs. Friendswood," Mitchell said, "We need to continue to improve upon our blocking. Friendswood is very offensive and it will be key to slowing them down at the net."
The Leopards played the Highland Park Scots last Saturday, where Lovejoy won the match 3-0. Junior Cecily Bramschreiber led the attack with 21 kills, while sophomore Averi Carlson recorded 36 assists. On defense, sophomore Grace Miliken had eight blocks, while junior Callie Kemohah tallied 22 digs. Junior Kylie Fitzsimmons also had 17 receptions. 
"Three sets off of Highland Park was a little surprising but very good for us," Bramschreiber said. "Being able to stick with the game plan was important, because the other team is scouting us as well, and they know what we are doing, so it just comes down to who sticks to the game plan the best."
The team looks to keep a calm mindset heading into the game. 
"It's too much pressure on ourselves to be racked up to early [for Friendswood]," Bramschreiber said. "Throughout the season, our second set is usually where we get racked up, so we need to be able to keep our emotions under control and play the game. I think should be an easy win as long as we don't play against ourselves, and just play a clean game."