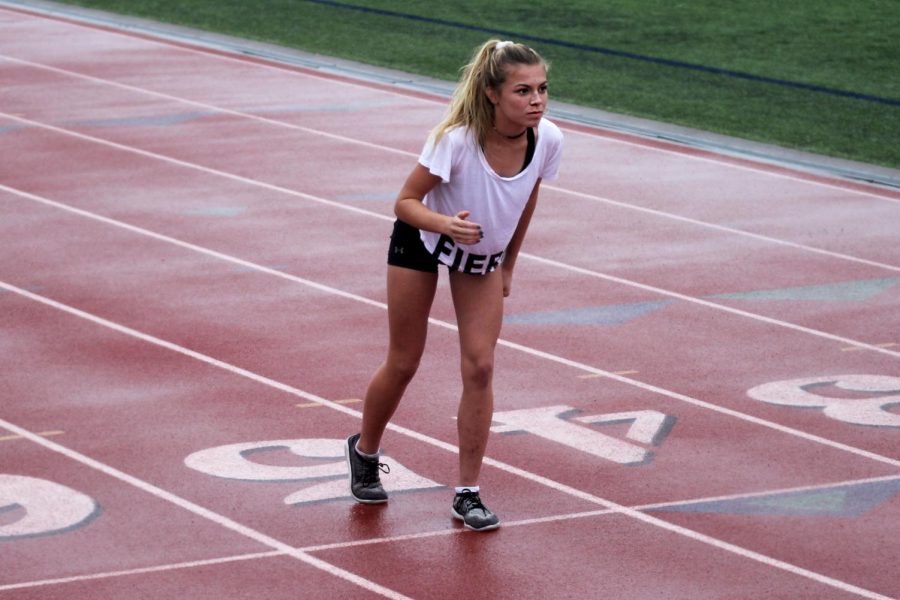 Amiya Callicutt
She hated that rolling backpack that she had to drag all around the school. It was a reminder of a broken back and a missed season. The screeching sound it made when it drug across the floor. It sounded like she was on an airplane runway. People tried to jump on it for rides.  
However, she didn't let this discourage her. Since freshman Amy Morefield's return at the start of the school year, she has been named freshman of the week by TX Running, district freshman and newcomer of the year, and she had an article written about her in The Dallas Morning News. 
Her achievements did not come easy. On March 12, 2019, Morefield got news that made everything make sense. Her back had been hurting a lot recently, more than usual. 
"It hurt to breathe," Morefield said. "I could barely talk without it getting worse. I had to basically be carried to the car. It was a 9.9 on the pain scale. It was the worst pain I had ever felt, it was like a stabbing, shooting pain."
Morefield finally decided to go to the doctor after a whole cross country season of back pains. Though X-rays didn't show anything, the MRIs showed a fractured back. Two of her vertebrates were broken and disconnected from her spine. Because of this, Morefield had scar tissue being used as a connecter instead. 
Before her diagnosis, her coach Carly Littlefield knew she was a very gifted runner. 
"I would watch her run, and could tell she had a gift," said Littlefield. "What I didn't know at the time, is that she is also one of the most competitive and hard-working athletes around. These three attributes give any athlete something special."
Morefield's mom, Kate Morefield, helped her by setting up a stationary bike for her to maintain her cardio and keeping her thinking positively. 
"It is always tough not being able to do what you love," Kate said. "I would remind her that although it sucks, injuries happen to everyone at some point and you have to make the best of it and get through it- it makes you mentally tougher when you come back."
After the diagnosis, Amy took three months off of running. On the fourth month, she was able to ease into running again. Amy, was a good runner before her break from running, but she was able to come back stronger.
Amy was the first to beat McKinney North's London Culbreath in a postseason UIL race. In the Lovejoy Fall Festival, Amy was able to run a 18:17.05 5K with a pace of 5:53/M. Amy more recently won districts and went on to take home a silver medal at the UIL state qualifier.
"Sometimes injuries can be a good thing," Amy said. "I know people say there's positives to [being injured] just to make you feel better, but the positive is now I'm fresh, and running is fun for me."
Littlefield is "happy" to have her back and competing at a high level.
"She is the same runner she's always been," Littlefield said. "In fact, I think she's come back with a little bit more passion and excitement after some time off."
Amy's team is reaping the benefits of having her back and racing. They look forward to following Amy's lead to state this Saturday at Old Settlers Park in Round Rock. 
"Amy has made our team so much faster and better because we all push ourselves to get closer to her times," senior Zoe Bessa said.