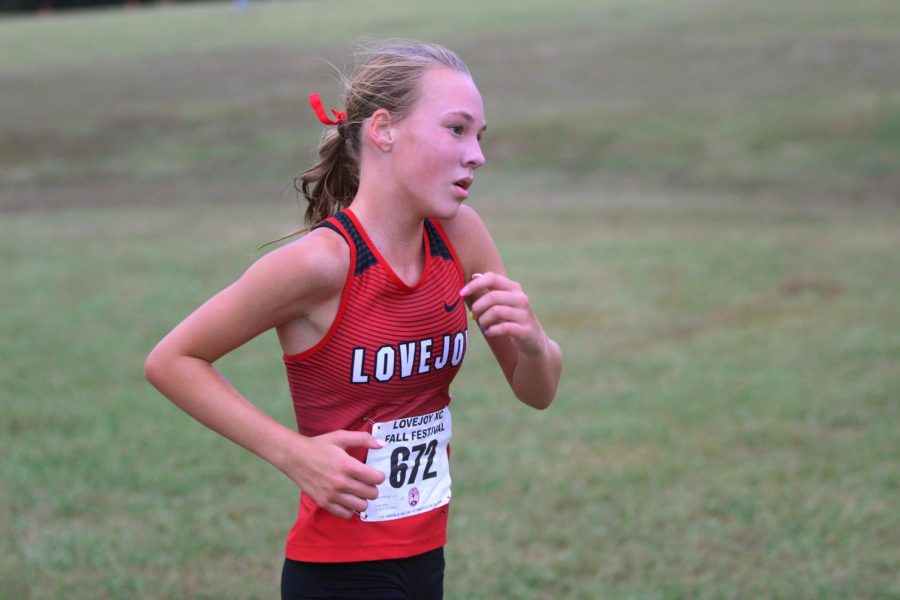 Katie Dolberry
This past Saturday, September 28, the girls cross country team traveled down to the McNeil Invitational in Round Rock to compete against a variety of 5A and 6A teams across the state. The teams' top seven runners competed in the girls varsity gold division, taking eighth place out of a total of 71 teams with a score of 414 points.
Making the 207 mile drive from Lucas provided the girls with a great opportunity to get a feel for the state championships course that the girls will be competing at later this year, said sophomore Katie Armstrong. 
"We went to this meet because it was on the state course and gave us an idea on how the race will be like," Armstrong said. "We raced against a few of the teams that we will compete against at the state meet and we did pretty good."
Freshman Amy Morefield led the way for the girls with an eighth place overall finish with a time of 18:15.70, while sophomore Amelia Carothers finished 32nd overall crossing the finish line at 19:11.20.
The other varsity girls competed in the 5A varsity open race finishing second overall with a total of 129 points, and just falling behind Georgetown high school, who finished with 80 points. Senior Maci Martelloni finished first for the Lovejoy girls in this division with a 16th overall finish at a time of 21:03.00, and junior Lily Bouldin finished just behind at 17th overall with a time of 21:03.30. 
Off to a strong start for the season, Martelloni said that after coming very close to making the state meet last year they expect to be there and perform very well at this year's meet.
"I think our team has a really good chance of performing well at state this year knowing that our girls teams hasn't made it to state since our school was 3A," Martelloni said. "The fact that last year, our girls team was three points away from making it to state will push us all to our limits for the season."
Although the main goal was to win the meet when making the trip to Round Rock, girls head coach Carly Littlefield said it is a very good way for the girls to have a chance to grow closer together with a tighter bond.
"We do a lot of team building throughout the year, but between boys and girls, we have 120 runners, so it's tough to do things like team dinners and gatherings very often with that many athletes," Littlefield said. "This helps the girls get in a smaller environment and discuss our goals and expectations for the remainder of the season. I think the girls learned a lot from this experience and race."