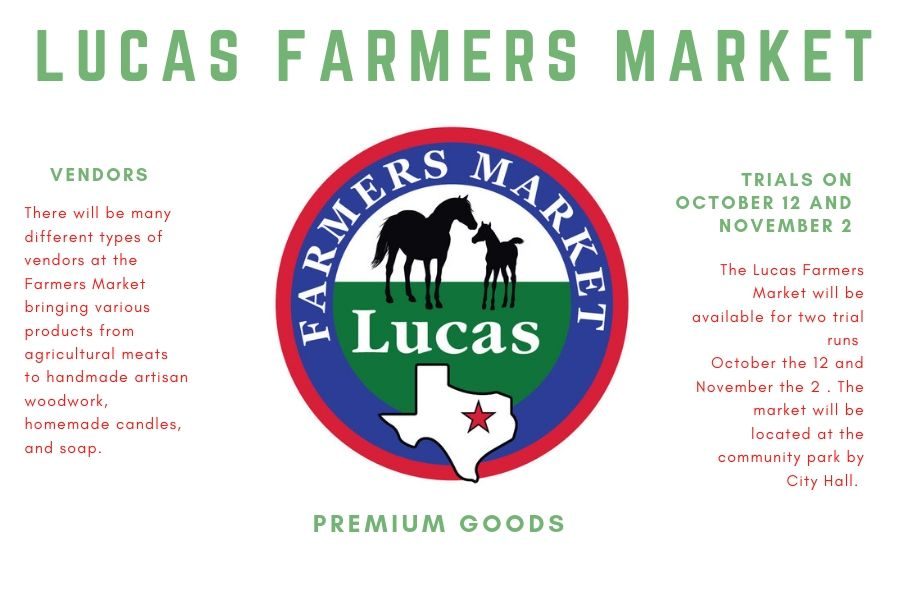 Ryann Daugherty
To embrace a stronger sense of community and to show support for local growers and producers, the City of Lucas is introducing the Lucas Farmers Market. Two trial markets will be held on Oct. 12 and Nov. 2 from 8 a.m. to 12 p.m. at the Community Park near City Hall.
"We're going to see what the [community's] interest is and see if the community can support the market," City Manager Joni Clarke said. "Then the committee is looking at kicking it off in the spring."
Thirty vendors, including agriculture and artisan, have signed up. Goods including honey, salsa, meat, soaps, candles and baked goods will be sold. Participating vendors will not have to pay a fee to set up a stand since the City is sponsoring the event.
"In Lucas we have Founders Day, which is an opportunity for the community to get together,"  Member of the parks board Deborah Guillemaud said. "We wanted to add something additional, so we created the farmers market. It's not a fundraising venture for the city."
According to Joni Clarke, the Farmers Market committee hopes to give light to the roots of Lucas and create another way for the community to grow closer. 
 "Lucas having a little bit of a country feel and the agricultural history, that it's something that we feel the community will support," Clarke said. "There's been some social media on it on Next Door, and it looks like a lot of people are pretty excited about it. So hopefully, it's very successful."