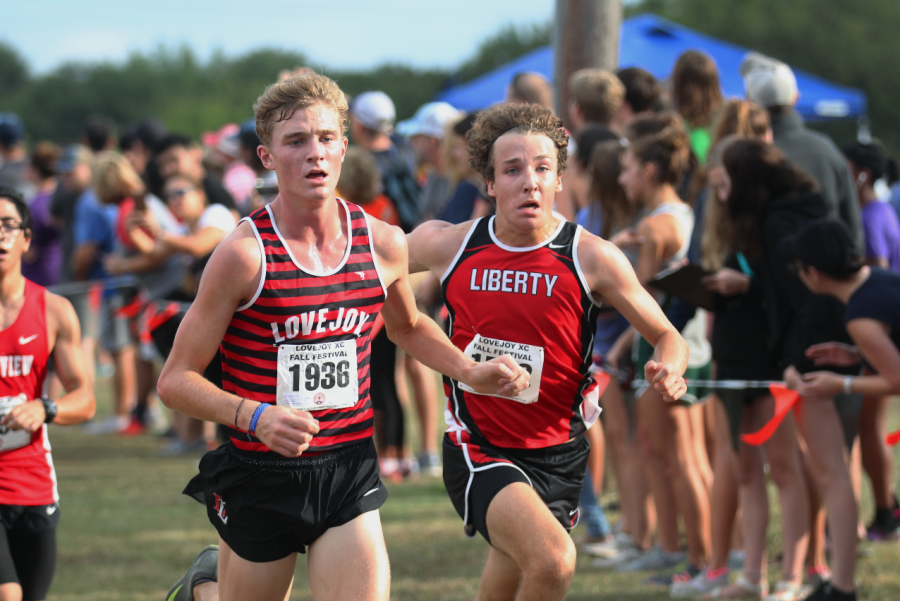 Katie Dolberry
The boys and girls cross country teams ran home at the annual Lovejoy Cross Country Fall Festival this weekend at Myers Park in McKinney. The Fall Festival is one of the biggest meets in Texas, as it attracts some of the best talent in the state.
Senior Will Muirhead led the pack with a second overall finish and a time of 15:25.23 while senior Brady Laboret took seventh place with a time of 16:02.59. The varsity boys team finished second overall with a total of 107 points behind Smithson Valley who tallied 105 points for the race. 
The varsity girls were led by freshman Amy Morefield, who took first place overall with a time of 18:17.05, while junior Amelia Carothers finished with a time of 19:35.61 to finish 16th overall. Morefield was named the Girls Texas FR of the Week by TX Running. The varsity girls took home a second place finish with a total of 102 points while finishing behind Bridgeland, who finished with a total of 99 points. 
In her last season of racing for Lovejoy, senior Zoe Bessa has noticed a new level of potential for the team this year that hasn't been seen in recent years. 
"Our first three races have been the best first three we have had in years, so it's giving us a lot of confidence for the rest of the season to accomplish our goals," Bessa said. "I can see more improvement coming up for those important meets like regionals and state."
According to senior Brendan Dunleavy, the boys are looking to start their speed training to get them another state title after a third place finish last year. 
"Our varsity team has had some pretty strong performances through the first three races of the season, and we're looking solid," Dunleavy said. "From here we'll begin our speed training and hopefully get some more of our top guys below 16 minutes."
After competing in the Fall Festival for the last time, senior Grant Gueller notices how much the event has grown. 
"Competing in the Fall Festival was very exciting this year since we have a team that races well together and challenges each other," Gueller said. "It has also been nice to see Fall Festival grow into one of the biggest meets in Texas since my freshman year."