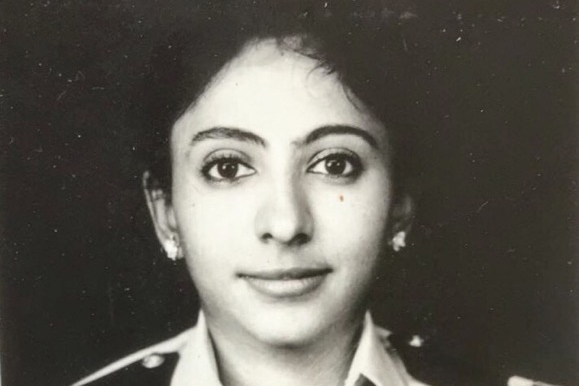 Courtesy of Suma Joseph
With a weighted backpack on her back and a rifle above her head, physics teacher Suma Joseph, ran laps around the playground. She would consider this the worst punishment she ever had to do.
Waking up at 4 a.m., training, exercising, harsh punishments, and more training made Suma's days in the Indian Navy exhausting and long. Starting in 1994, everyday she fought for her country.
"The days were really very blurry," Joseph said. "But the kind of bonding and sense of belonging that it creates stays with you for life."
As a member of the Indian Navy, Joseph's training consisted of physical training and lessons. One piece of their physical training was marching to all their meeting places.
"You would get like a little break," Joseph said. "Sometimes we would just go take a shower because we were just sweating like crazy."
Growing up in India, Joseph's father taught students whose parents were in the military. As a result, Suma found her drive to serve for her country.
"I got to see a lot of parents who were in the services," Joseph said. "And that is what inspired me."
As her time in the navy came to an end, Joseph participated in the Passing Out Parade where she earned her stripes. After not seeing her parents for seven years, Joseph's parents were able to attend.
"My mom saw me and she just bawled," Joseph said. "She had not seen me for so many months. I had lost so much weight. It was great to meet my parents and have them there for my Passing Out Parade."
August of 2001, Joseph completed her seven years in the Navy. Now as a teacher and mother, her two daughters are able to see the impact of being in the military. Her freshman daughter Dinah said she believes "her ability to push others to be the best they can be" is a quality she uses on her students gained from being in the navy.
"I feel like she became more adventurous in the navy," junior daughter Naomi Thadikonda. "I think the navy made her more independent."
Today, Joseph has attributes that she can accredit to the Navy. Her daughters, Naomi and Dinah, believe their mom is "extremely disciplined and hard-working," that come from her service in the country.
"In elementary school, my mom always seemed to be a little stricter than most mothers," Dinah said. "She would drill multiplication tables in me and my sisters' heads every morning and if we weren't keeping our rooms clean, the consequences were not pretty. But because she pushed us both so hard to be the best we could be, I think that made me the person I am today."
According to Dinah and Naomi, Joseph has set an impact and example on her students as well as her daughters.
"I'm really proud of my mom for her time serving in the Navy," Dinah said. "It showed me how important it is to serve your country."