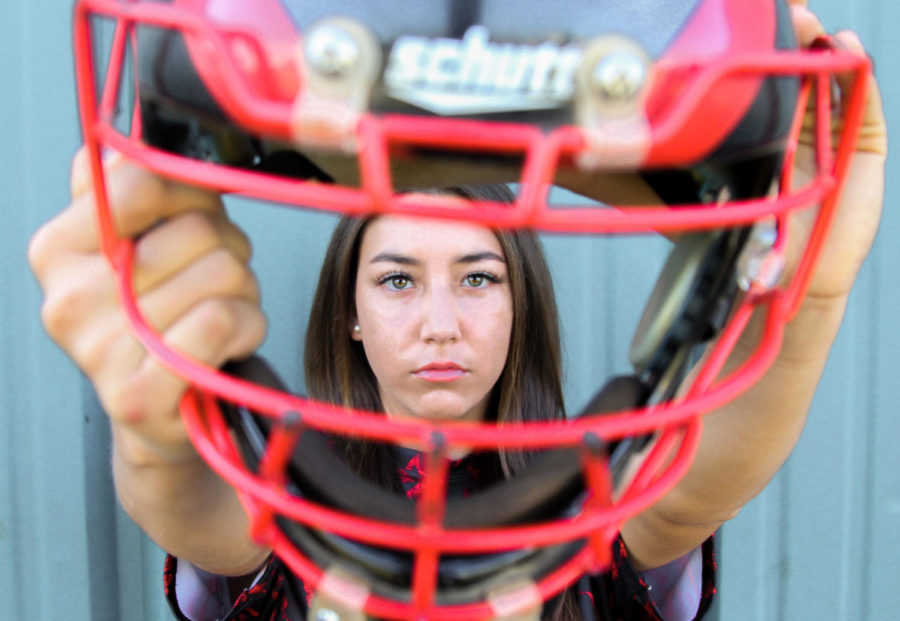 Grace Nguyen
Dressing into her red uniform top that reads "Mexico" across the front in white letters, senior Celeste Soliz begins to get ready for the game. She slips on her white pants and red cleats and takes a deep breath. The jitter of nerves and anxiety hits Celeste.
This wasn't a typical high school softball game.
She forces a smile to attempt to calm down.
"You know that thing they say," Celeste said. "If you make yourself smile for 10 seconds, you'll automatically feel better."
Her breathing and heart rate settle down. She grabs her catcher's glove and hits the field.
Celeste was invited freshman year to participate in the Mexico Women's Junior Softball Team competitions. Invitees meet in California several times and have to perform well to advance forward and become official members. The end goal for her is advancing through all the competitions and help the national team win gold in the 2020 Olympics.
"Being in a new environment is a benefit," Celeste said. "It's cool because everything was in Spanish. The stretching and phrases [the coaches said] were in Spanish. I'm somewhat fluent, and I understand it better than I can speak it. I can definitely pick up on what the coaches are saying, and you just have to get used to it."
Invitees all have Mexican heritage and come from all around the country every few months to attempt advancement. Without several group practices before the competitions, she faces challenges.
"At the school, [the people I play with] are my teammates, and I see them every single day," Celeste said. "If my pitcher is struggling, I know what to say to her. We all know how to work with each other because we see each other every single day and have known each other for a long time. With the training team, you have to pick up on things very quickly and have to perform at a very high level. There's not room to make mistakes."
Brittany Lee became the school's head softball coach last August. Lee's first impressions when coaching Celeste were that she's thoughtful and purposeful in practices and games.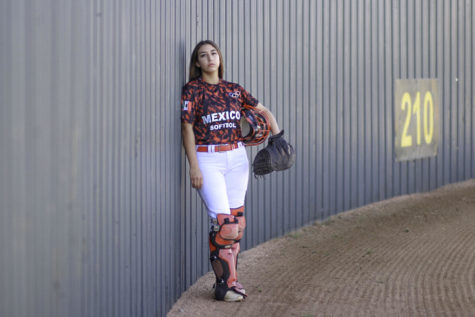 "Celeste's talent is undoubtedly a product of her hard work and commitment to the sport," Lee said. "She has both a love for the game and an appreciation of the process and commitment it takes to compete at a high level. Having her presence and knowledge behind the plate was something her teammates and coaches relied upon."
Celeste's favorite experience with the training team came when they competed against the Chinese Taipei national team.
"It was really cool because we were talking all Spanish, and they were talking all Chinese," Celeste said. "There was no English at all. It was really cool knowing that we could go against an actual Olympic team. I remember playing against them and having one hit that was a gap shot. My pitcher was doing really well that day too. It was just that feeling of being there that was really cool."
Although Celeste feels an immense amount of pressure to perform well, she keeps the coach's advice in mind.
"The main thing our coaches always tell us is to not pressure yourself to do [well] because then it won't end up working," Celeste said. "It's the fact of knowing that it's softball. No matter where you go, it's softball. You just have to play your best, try your best, and just be happy for the opportunity."
Joanna Soliz, Celeste's mother, said she is proud that the sport her daughter loves has given her the opportunity to play softball on the high school team, trying out for the Mexico Olympic team, and being committed to four years at Arizona State.
"I'm very happy to see that she's grown up to be not only a good daughter but an athlete that is pursuing her dreams and her goals," Joanna said. "I'm going to continue to support her on whatever her dreams are as long as she's fully committed to what she wants to do. Throughout time, she's shown that she's committed to pursuing her softball dreams. Regardless of the outcome, I think that all of the experiences can be something she can take forever with her."
Whether it's a high school game or the Mexico Women's Junior Softball competitions, Joanna feels overwhelmed watching her daughter play softball.
"There's a lot of excitement," Joanna said. "Even though she is the one playing, she is the one putting in the work, she is the one practicing for hours, and training her body mentally, physically, and emotionally, I think that I also feel fulfilled and accomplished that my child is working hard at what she wants to accomplish."
When Celeste advanced through her recent competition, she made her first call to her awaiting mother.
"Getting to make that call was so exciting," Celeste said. "I wasn't sure that I could do it, but I got to continue and prove to myself that I'm good. It's the fact that I get to go out there and do my thing and do it for my family. They do a lot for me, so it's even better getting go home and tell them that I get to continue."