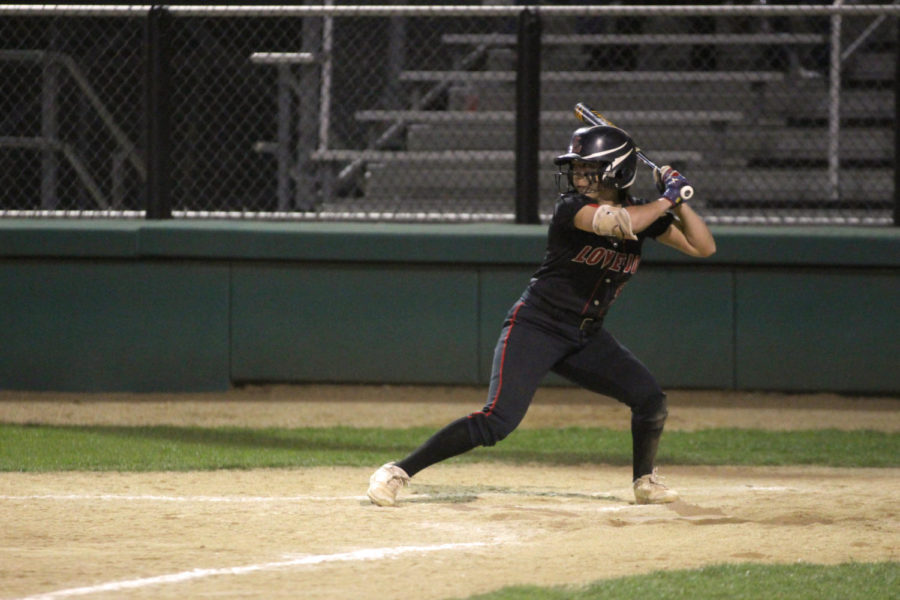 Olivia Lauter
The softball team (7-14-1 overall, 4-1 district) will be looking to win its third straight district matchup against the Wylie East Raiders (7-12 overall, 2-3 district) tonight at 7 p.m. The Leopards played the Raiders earlier in districts, winning comfortably in a 10-0 shutout.
"We have a tough couple of games coming up," junior Mackenzie Mitchell said. "Right now, we're just focusing on going game by game, and not just the end results. We're hitting really well, and we're just playing together, and not playing for ourselves."
The Leopards pulled off two big wins against their last two opponents, scoring an accumulative 26 runs across Denison and Princeton while only conceding three.
"The games against Princeton and Denison were a true full-team effort," head coach Brittany Lee said. "We were able to make some adjustments to our line-up and find all 12 Varsity players time at the plate or in the field."
The Leopards put 11 runs past the Princeton Panthers in a match that ended 11-1 on Tuesday, April 2nd. Junior Grace Nguyen pinch ran for pitcher Sydney Provence, scoring two runs. Nine players scored runs, while Provence only allowed one run across four hits, walking one and striking out one at the pitchers mound.
The Denison Yellow Jackets fell to the Leopards as well in a game that ended in 15-2 with Lovejoy on top on Friday, March 29. The Leopards scored 11 runs in the first inning, securing the win early in the game. Senior Delaney DiCristofaro scored three runs, while three other players picked up two runs each. Provence only allowed two runs across five innings at the pitcher's mound.
"We have a strong approach to "winning the inning" and "scoring first" when we are the visiting team," Lee said. "Against Dension, we took the moment right from the get go and left our foot on the gas. Each hitter did their job and executed their plans at the plate."
"The main focus over the next 14 days is to finish what we've started," Lee said. "Our mission is to not only duplicate the results from the first half of district, but to get the win back against McKinney North and contend for the district championship, as well."