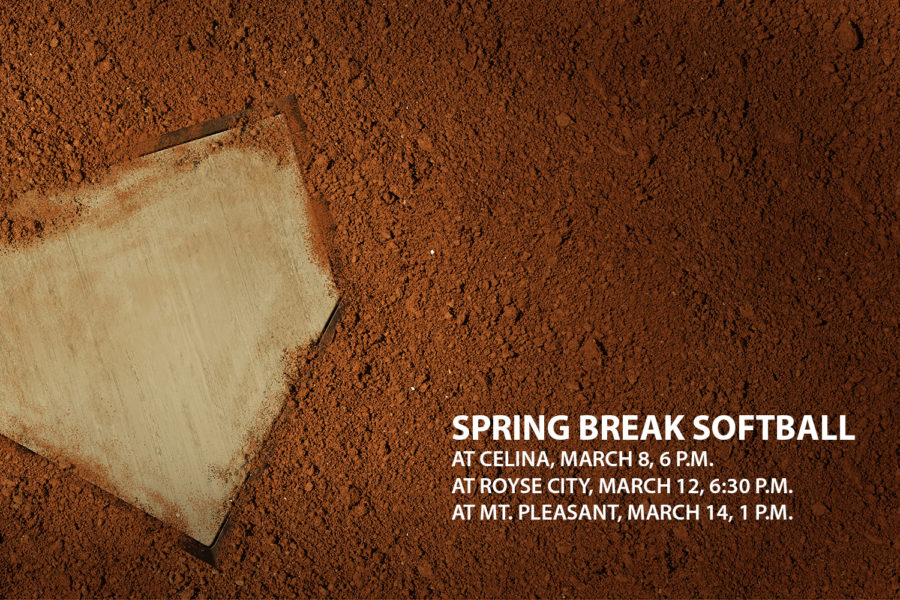 Graphic edited by Shae Daugherty
Hoping to correct a nine-game winless skid to open non-district play, the softball team (3-10-1 overall) will travel to face the Celina Bobcats (7-8) on Friday, March 8, at 6 p.m. The team follows with a pair of road games over spring break, facing the Royse City Bulldogs (10-2-1) on Tuesday, March 12, at 6:30 p.m. before playing Mt. Pleasant Tigers (13-5) two days later on March 14 at 1 p.m.
"The team has performed inconsistently over our last few games," Head Coach Brittany Lee said. "While the weather, cold and rain certainly was a factor, it should not have been an excuse. We have yet to find the ability to play our game, no matter who is across the field."
The Leopards faced off against the Plano West Wolves (10-3) on Feb. 28 in a 10-0 loss. Pitcher Sydney Provence lasted four innings, allowing 13 hits, striking out three and walking zero. A single hit by Leah Taylor in the fifth inning was a positive of the game, according to Lee.
"From a coaching standpoint, I am just as much responsible for our losses as the athletes," Lee said. "Mentally, we have to be better about controlling what we can control and not letting errors compound on to one another. We need to have a little more grit than we do now."
After the Plano West game, the Leopards played the Northwest Texans (10-6-2) on Feb. 28  in a close contest that ended in a 6-6 tie. All six runs scored by the Leopards were scored by different players.
"As a team we need to work on having an intent to play to win instead of playing not to lose," senior Celeste Soliz said. "We have done a good job to collectively come together as a team and communicate if we don't have something turn out the way we want it, and having a game plan to bounce back."
The team traveled to Trophy Club for the Turf Wars competition where they faced off against three teams. They started the competition with a loss to the Paschal Cougars (5-12) 12-5 on March 1. Senior Rebecca Holiman hit a homer in the fifth inning, junior Grace Nguyen went 3-for-3, and five other players picked up a run.
Later that afternoon, the girls faced off against the Southlake Carroll Dragons (13-6) and were unable to produce a win, losing 7-3. Holiman and freshman Bailey Brashaw led the attack, racking up multiple hits for Lovejoy. The Leopards finished up the tournament with a close clash against the the Frenship Tigers (14-6) in a game that ended in a 13-12 loss for Lovejoy. Eight players made the scoresheet, with four of them racking up two runs each.
"Despite not picking up any wins last weekend at the Turf Wars tournament, we played one of our best games against Southlake," Lee said. "We have been fortunate to have hitters in multiple positions to push across some RBIs. We still need a little work on responding to pressure and how we approach each bat. Our biggest improvements need to come from our pitchers and defense."
After playing seven games last week, the team needed a small window to recover and work out what worked well and what didn't, according to Lee. Practices this week will consist of new pressure-filled drills to work the defense as well as improving the pitching game.
"I definitely think we could break our losing streak," senior Delaney DiCristofaro said. "We've been playing some really tough teams, like 5A and 6A state champs, but it's preparing us for districts, so I think we're going to do really well there. We've worked really hard this week, and I think if we do what we're supposed to, we'll come out with a win."