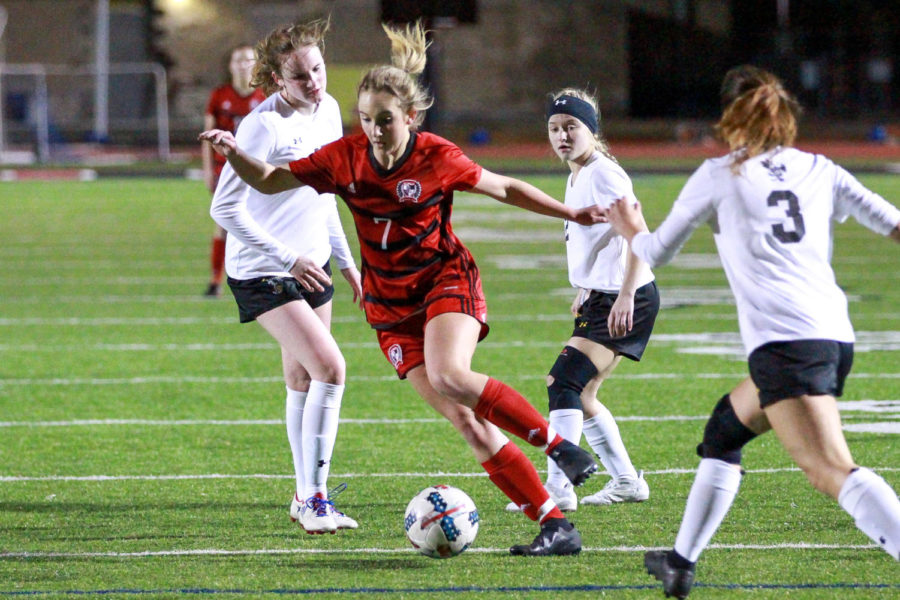 Grace Nguyen
Coming off a decisive 7-0 win over Sherman on Wednesday, the girls soccer team will face the Princeton Panthers away tonight at 7:15 p.m. The team (12-6-1 overall) has officially made the playoffs for the first time in five years with a district record of 5-3.
Both junior Reagan Matacale and freshman Tatum Chester had hat tricks against the Bearcats, and sophomore Natalie Reyna scored the other goal.
There are two district games left: one against Princeton, the other at home against McKinney North to which the team lost to 3-0 in the first matchup. According to Head Coach Ian Keeble, round one of the playoffs will be held on March 28, 29, or 30.
"The game plan is to stretch them offensively to open up passing lanes to our wide players," Keeble said. "Defensively we need to stay strong in 1v1 situations and keep them in front of us."
The girls Coach Keeble expressed how important it is to have that home field advantage against a tough team like McKinney North.
"So far this season the team has been learning what we can achieve together," Keeble said. "Our loss versus McKinney North showed us where we need to get. It also showed us we are good enough to beat teams like that and that is what we will have to do in the playoffs. So I think playing at home is really going to help us."
With spring break around the corner and the game on Friday, the team may be low on players which could be a great chance for one of the girls with less playing time this season to step up. However, Matacale said that the number of players on Friday won't matter.
"The numbers won't affect us because everyone on our roster is committed and willing to give everything they've got for the team," Matacale saids