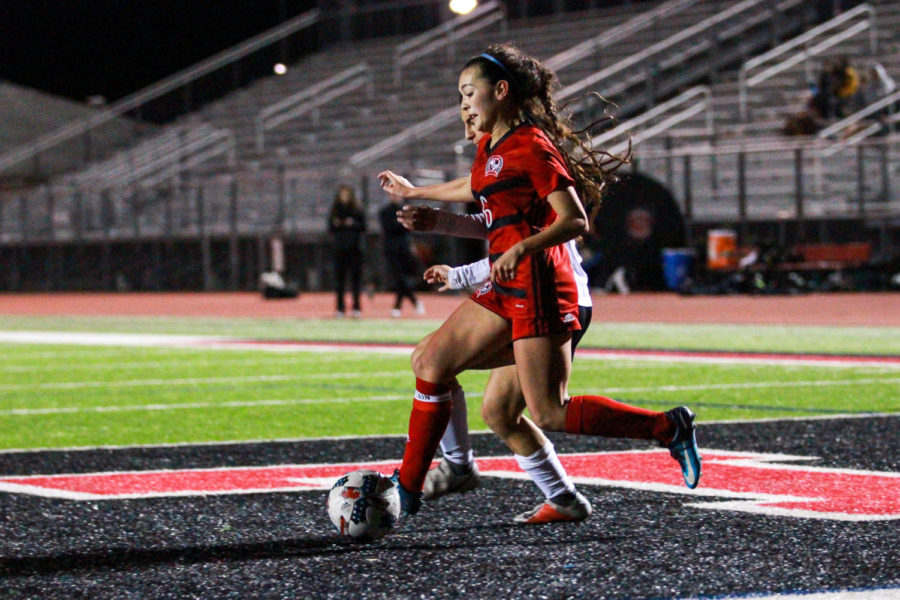 Grace Nguyen
The girls soccer team is set to face Sherman on Friday night at 7:15 p.m. The girls are coming off of a win against Denison High School on Tuesday, which was their first home district game of the season.
Coach Ian Keeble said after Tuesday's victory the team feels good about Friday.
"The team is feeling confident after Tuesday's 4-0 win vs. Denison," said Keeble. "We are hungry for more and we want to keep performing like we did in the second half on Tuesday."
The game on Friday at Sherman will be their second away district game, the first of which was a 2-0 loss to Wylie East. Junior Sydney Fluker said the road loss was a learning experience for the young team.
"We lost 2-0, but held our own first half by keeping it 0-0," Fluker said. "Although we did a lot of great things and fought hard during the game, as a team we realized what we need to work on to improve our game."
Junior team captain Reagan Matacale identified positives in spite of the recent road loss.
"It was a tough loss, but it showed us how far we've come as a team and how much we need to improve," said Matacale. "I really think our team is becoming a whole rather than a group of individuals which was what Jessie Maashio and I set out to make as captains."
The team is filled with many young players, as there is only one senior and three juniors on varsity. Keeble said the players are just now getting used to playing with each other.
"The team is 8-4-1 overall," said Keeble. "We had a couple setbacks to end our pre-district season and to start district against teams who are ranked in the region. Those games were good tests for the team and we definitely learned a lot from those setbacks. I think the girls are playing more like a team. By the end of districts, I feel we should be challenging for the title."