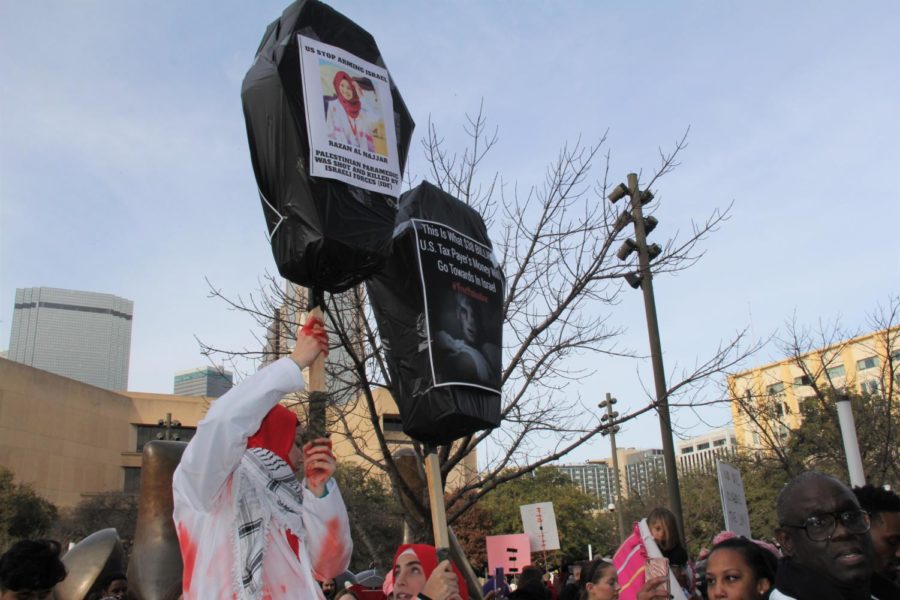 Lauren Gardner
More than 500 women, men and children of all ages and diverse backgrounds gathered Sunday afternoon, Jan. 20, to make their way toward Dallas City Hall for the 3rd annual Dallas Women's March.
Among the attendees was sophomore Molly Sue, who recently moved to Texas from Los Angeles.
"As a long time feminist, it is so important to me to march each year," Sue said. "Moving here, I feel it is more important to go to the march because here, not everyone agrees with the marches. I'm empowered by the thought that Texas needs change and people coming together can make that happen."
People from all backgrounds marched in unison towards their destination. People moved on their feet, wheelchairs, walking sticks, strollers, joining arms, using speakers and holding signs. People began to chant "human rights, fundamental rights, our choices, our lives."
"What I love about the march is the sense of community," Sue said. "People of all races, identities and beliefs are coming together to support one another. There is no feeling of judgment because you are being embraced."
This movement is a sister march of the national Women's March in DC advocating for "ending violence, reproductive rights, LGBTQIA rights, workers rights, civil rights, disability rights, immigration rights, environmental rights and more," according to their website. Signs with "#metoo," and "women need equal pay" exhibited the different views at the march.
Marcher Celeste Sully, mother of two, said she came to the march to demonstrate to her children that they need to advocate for themselves.
"Seeing how women are treated in the workplace compared to men and that they suffer discrimination and as successful as I been, I don't want my daughters to feel this," Sully said.
Arriving at City Hall crowds of new people joined the protesters in celebration after the walk had ended. Police secured the area and welcomed people as they marched into Dallas City Hall.
Speakers including a state representative and founder of the march Victoria Neave and volunteers advocating for different rights took the stage stressing education and promotion of human rights.
"We must be in unity," Neave said on stage. "As women, we must get our hands dirty. We must fight for our rights."
Abuse survivor and volunteer Diana Marie from Austin also took the stage and stressed the issue of gun control.
"Guns must be background checked because they are often used to create fear in domestic abuse relationships and a main tool used in teen suicide," Marie said.
Sophomore Brianna Kim said she believes that "the right to freedom of speech, expression and assembly" makes it important to participate in the march.
"I think recently some women have wrongly tried to turn feminist into a men-hating idea that only valued the white, straight, cis-female, and that's how many people stereotypically think a 'feminist is,'" Kim said. "What I loved most about the march was the love."