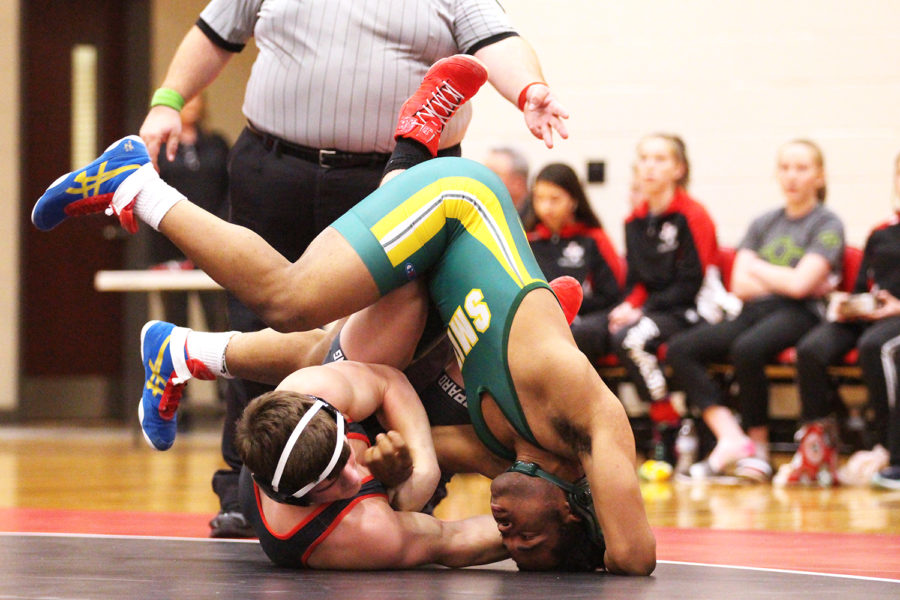 Grace Nguyen
The boys wrestling team will be meeting at Trinity Christian Academy this weekend. All weight classes for the boys will be competing in this meet.
In order to prepare for the meet, many of the wrestlers have been managing their weight and diet, which coach Mike Eaton has a specific system for.
"We have some wrestlers who are on a very specific nutrition plan," Eaton said. "The number one way our wrestlers watch their weight is by eating right, or having a good nutrition plan. The average person walks around dehydrated and eats poorly. We teach our men and women how to eat and hydrate correctly, and most often we find that they are able to eat more as they are eating healthy."
The grind and hard practice is not only a weekday process. Sophomore Dalton Braun says that the dieting and training goes even into the weekends.
"We have to eat healthy food in the right proportions and train every day," Braun said. "We wrestle and lift in the morning, and condition a lot after school. We also have to work out over the weekends."
Freshman Trent Rucker spoke high praises of his teammates' chances of success in both the immediate and long-term future.
"I think when [sophomore brother] Ralph Rucker, [senior] Johnny Dorlan, and [junior girls wrestler] Katherine Heath are in their best conditions, they have a good shot at winning state," Rucker said.
Eaton highlighted a few of his wrestlers who are coming into the TCA tournament at a high level.
"Some of our current standouts are senior Johnny Dorlon, who just finished first place in the CenTex tournament in Austin where 45 teams from the state were represented," Eaton said. "Also, sophomore Jakob Underwood just won the CenTex tournament in Austin and is wrestling very well."
Eaton said his team is expecting an energetic atmosphere over the course of the weekend.
"The atmosphere at these events is very intense and exciting. In any one match, you have two wrestlers battling each other to see who is better. It is not a sport for those who are not competitors. Unlike a lot of team sports, you cannot "hide" during the match. It is one versus one each time."