Sharing a part of herself
Junior siblings establish deeper bond through brother's illness, sister's gift
January 8, 2019
It's their junior year and siblings Austin and Haley Bennett are in their first class together…ever. That wasn't the plan before. Growing up, Haley wasn't especially enthusiastic about sharing anything with her older brother, even when Austin would share everything, from food to stuffed animals, with her.
Next year, Austin will share graduation with Haley.
Last year, Haley shared when it mattered the most.  
On Sept. 13, 2017, Austin was diagnosed with Childhood Acute Lymphoblastic Leukemia (ALL) after a series of tests at Medical City Plano. Before Austin knew his diagnosis, he had been showing "normal" seasonal allergy symptoms.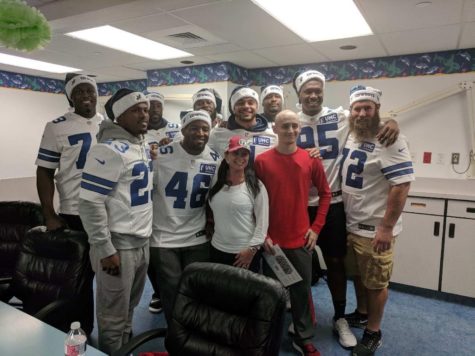 "One of the first things I started noticing is that in some of my morning workouts with my wrestling buddies I would get tired a lot of faster than I usually did," Austin said. "I did tell my dad to this, but he thought I was just working out so hard that I was getting tired, but I knew there was something wrong."
Soon, his symptoms became more obvious.

"I was having these random nosebleeds all of a sudden. I was just walking down the hall–nosebleed. I was just sitting in class listening–nosebleed," Austin said.  "I also got a small rash in the palms of my hands and my wrists that kind of resembled poison ivy, but it was actually because of the leukemia."
Austin lost so much weight that his mom said he looked like a skeleton. His family began to search for a cause of his symptoms when Austin knew something was wrong, leading them to his diagnosis.
"It was hard on the family, lots of crying and mourning," Haley said. "It's not exactly something that you hear every day."
Each family member played a part in his recovery.
"I was kind of like the help of his mental state, while my parents [helped him physically along with doctors]," Haley said.
But little did Haley know, she would soon play a much bigger role in Austin's recovery.
For Austin, the fight against cancer wasn't just physical but also mental.
"[Recovery] is 90 percent in your head," Austin said. "The 10 percent is the chemo and the radiation which is hard to deal with, but you heal from that a lot easier than if you have a bad mental state and you get yourself into depression."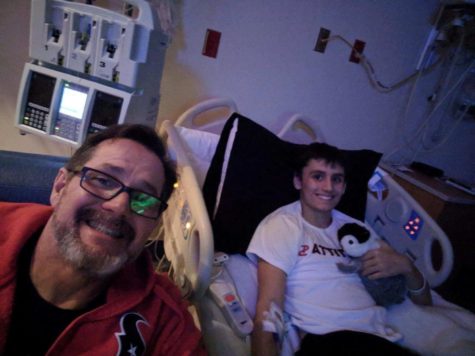 For both Haley and Austin, the physical treatments were not the only important part of the recovery. Treating loved ones with cancer like delicate creatures can make them feel worse.
"You have to make sure you don't treat [loved ones] any differently," Haley said. "Or else, it will make them feel different. And then they'll get insecure about that."
Austin was grateful about Haley's insistence on treating him the same way despite the cancer.
"She was kind of like the anchor for normal life," Austin said.
Austin started chemotherapy in September, but even after the chemo, things were getting worse.
"The leukemia in me had adapted and mutated to become chemotherapy-resistant, so we needed to find a new way to help attack the leukemia," Austin said.
That's when Haley got a chance to repay her brother for his years of sharing. When Austin's doctor suggested a bone marrow transplant, Haley jumped at the idea of sharing a part of herself with her brother. First, tests had to be run to make sure that Haley's marrow was compatible with Austin's. After two tests, Haley's bone marrow was found to be a 100 percent match for her brother.
"It is so rare," Haley said. "It was like the golden Willy Wonka ticket."
After the tests, Haley underwent surgery on March 26 to remove some of the marrow from her hip so it could be transferred to Austin.
"Before the surgery, I never even thought about the pain," Haley said.
The transfusion brought the siblings even closer together. 
"
He is completely me now. He is me but just in his own body."
— Haley Bennett
"He is completely me now," Haley said. "He is me but just in his own body."
Now a year has passed and the Bennett family's life has returned to a new normal. Because of the classes Austin missed last school year, the siblings have started junior year together, sharing their English, PAAVTAC, and entrepreneurship classes. In two years, Austin can be considered officially cured with less frequent hospital visits. Currently, he visits his hospital for check-ups every month, but in the future, it could be reduced to once every three or four months.
Austin and Haley already have plans for their future following next year's graduation. Austin plans on going to a trade school "for welding, glass-molding, or wood-carving."
His sister is picking a different route–cosmetology school. Wherever their future education takes them, the siblings will always be linked because Haley chose to share with her brother.
"She saved my life. That's basically what she did," Austin said. "If I didn't get the bone marrow, the cancer would have continued to grow, and I eventually would have just withered away. So I am permanently indebted to this little rainbow-haired girl."