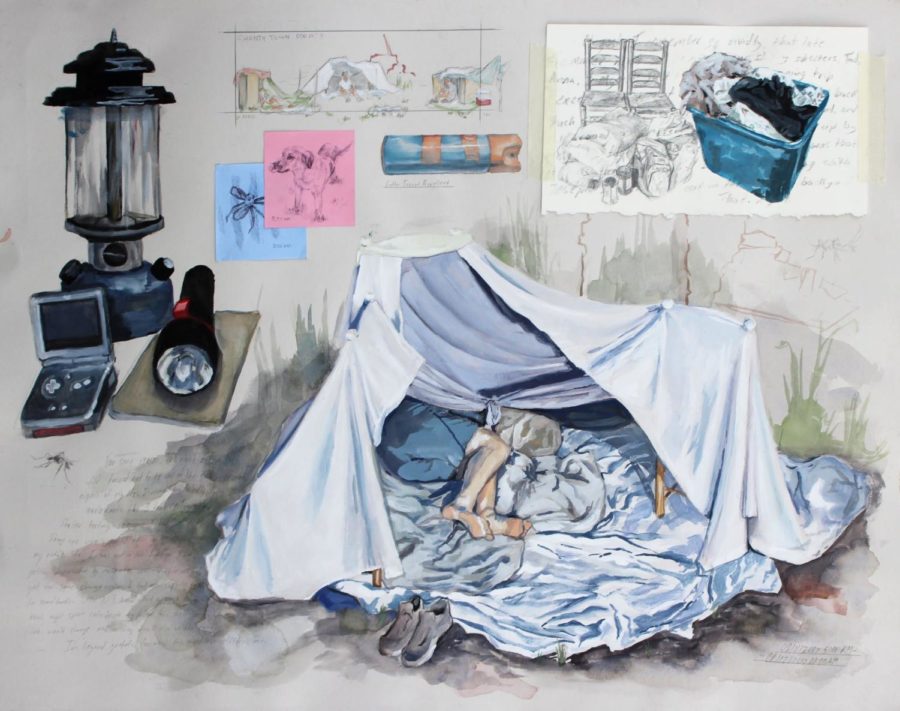 Courtesy of Eli Ruhala
Every year College Board selects two students worldwide as the AP Studio: Drawing portfolio example score of "six," and this year the district adds 2018 graduate Eli Ruhala to its list of recipients of this distinguished score.
Brice McCasland, AP 2D and Drawing Studio and K-12 Visual Art Coordinator, describes the portfolio of a six as "out there."
"Essentially, to get to a six you're breaking rules that [College Board is] establishing for a five," McCasland said. "A six is saying you are genuinely solving problems in new and innovative ways, almost like you're creating a new formula. It abandons the idea that art can be formulaic."
The AP Studio: Drawing portfolio consist of two portions: concentration and breadth. While the concentration is a collection of works reflecting the artist's personal investigation, the breadth exhibits the artist's range of approaches.
"[The breadth] is this idea of using different media to show you can master other materials than just one," Ruhala said.
Ruhala, now a student at the Maryland Institute College of Art, received a six for his breadth portion.
When Ruhala checked his AP scores in July, his score report read that he received a five for the exam. Ruhala later discovered he received a six through a friend.
"I remember I was in the middle of one of my lectures, and my heart was racing," Ruhala said. "I was kind of freaking out. I was so excited to have earned that."
Ruhala attributes his success to the guidance he received from McCasland, the first person Ruhala texted after learning about his six.
"I don't think the six would have ever been possible without Mr. [McCasland]," Ruhala said. "He's pivotal to the whole [art] program."
McCasland believes Ruhala's work is "beyond what is typically seen in high school or even college."
"You can also see rich content in his work," McCasland said. "His work is not just about technical excellence – his work exceeds that."