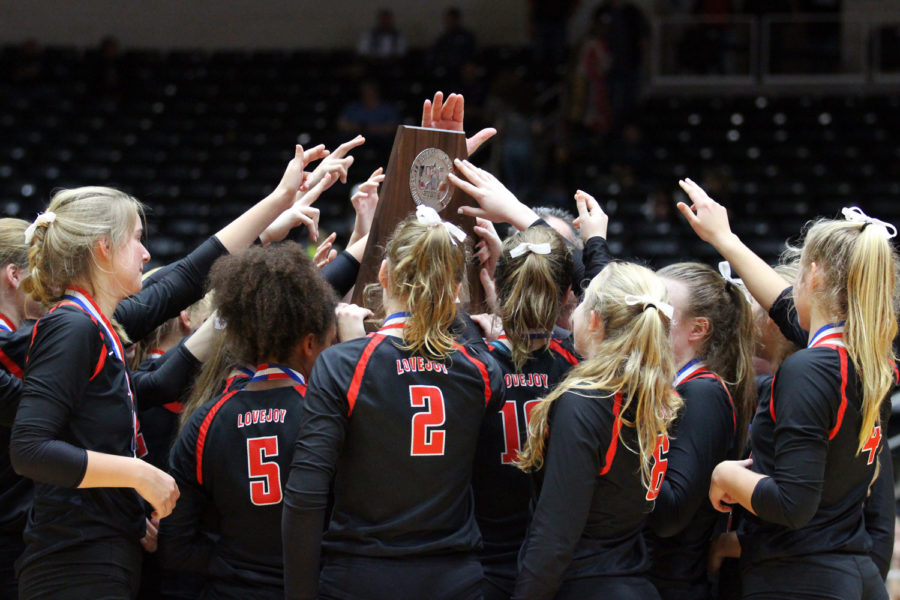 Grace Nguyen
Kingwood Park scored the first point of Saturday's 5A state volleyball championship match, and it also scored the last. It was not the ending Lovejoy, the six-time state champions, had hoped for as the Panthers prevailed in three sets (27-25, 25-22, 25-22) at the Curtis Culwell Center in Garland, earning the Humble ISD high school its first state championship in its first ever state tournament appearance.
In the opening set the Leopards came out strong, at one point holding a 19-8 lead. Yet, senior Madison Waters said the team got "a little too comfortable" with the lead and Kingwood Park came back to edge the Leopards by two points.
"In set one we obviously looked like we had ourselves in a good position," head coach Jason Nicholson said. "But give Kingwood Park the credit because they hung in there. Once [the Panthers] started closing in, we tightened up a bit and kind of let them start gaining confidence. As they got a little more confident, their level of play increased from point to point, set to set. You saw what that team is capable of if you let them hang around."
The Leopards continued to to deal with the repercussions of a dropped first set, as it visibly affected their confidence, which affected their game play down the stretch. The team recorded more errors, fewer kills, and a lower hitting efficiency in the second set.
"Our serve-receive tightened up a little bit and we started to sit back on our heels and play safe instead of getting up and going and playing aggressive," Nicholson said. "Kingwood Park was a very good team. They did exactly what we were hoping they wouldn't do. They passed perfect, their offense was fast and they really kind of got us out of our game."
Kingwood right side hitter Elizabeth Overmyer, who was named the state finals MVP, was a force to be reckoned with throughout sets two and three. She recorded a 44.1 percent kill efficiency (15 of 34), for which the Leopards had no answer.
"In set one, [Overmyer] looked a little timid, which allowed us to force her for some early errors," Nicholson said. "But once she got her head straight and got going, she really got up and was taking aggressive swings and we struggled with that."
The Leopards played catch-up throughout the duration of set three, and despite an attempt at a last minute comeback, the Panthers were able to hold them off to complete the sweep.
"We really just wanted to give it to the last point," Waters said. "Like Coach Nicholson said, we never thought we would be here at the beginning of the season and to even get here is such a huge accomplishment. We still have a silver medal around our necks, which is better than we could have said last year. I'm really proud of the way we're going out."
Nicholson said he is proud of his team regardless of the outcome and applauded the effort of Kingwood Park.
"We talked about where we wanted to be at the end of this one, and this wasn't it, but that's just volleyball," Nicholson said. "We know every time we step on the floor, there's not a victory that's guaranteed. Sometimes you win them, and sometimes you don't. But, we're proud of what we've done. I wish we would've had a gold medal around our neck. But like I said, Kingwood did an excellent job of playing their game today."