The walking 'Coop'
Animation teacher celebrates Halloween in his annual fashion
'The fluorescent lights fade into an eerie darkness at the end of B Hall. Caution tape, flashing lights, and haunting audio invite curious students to venture into the creepy zombified entrance of room B234, aka "Coop's Cave."
A piece of cardboard covered in dark colored hairspray, a coffee cup caked with fake blood and a projection of "Paranorman" take the creepy atmosphere from outside the door into the classroom.
For years, animation teacher Ray Cooper has decorated his end of the hallway as a zombie outbreak on Halloween, with animation 1 students spending the day turning photos of teachers into animated zombies. Offering a break from the stress of high school through decorations and a creative assignment, Cooper spends hours planning and preparing to make each year better than the last.
"I started doing this four or five years ago, and each year I try to kick it up a notch because after a while it's just the same old thing," Cooper said. "The freshman love it because they've never seen it before. The upperclassman, they've all seen it, so you kind of have to kick it up a little bit."
This year Cooper soaked his clothes in liquid fish in order to make his outfit more authentic than the last. Waking up at 4 a.m., he spent hours before school covering half his face in latex, spraying black hairspray on his hands and feet, and setting up the last few details of the hallway horror scene.
The entire process of creating a slice of Halloween just above the engineering lab, and the days of planning it takes to prepare for just eight hours of enjoyment, is one that Cooper tackles each year by himself. Each yellow caution tape draped over a metal pole, each ghostly handprint on the wall, and each paper streamer dangling from the ceiling are by his hand. However, he explains that it's necessary in order to be the teacher he feels "Coop's Cave" should have.
"It causes [me] more stress," Cooper said. "I learned a long time ago though, whatever's best for my students isn't always comfortable for me."
Cooper believes that as a teacher, he has a responsibility to care for his students. The last thing he wants is to leave a negative impression on a student, he said. The time and work put into Cooper's zombie project each year is added the list of responsibilities he has, so the process is one that is tiring and stressful for him. However, he does it in order to make the day better for the students who enjoy it.
"My room's a little different," Cooper said. "I consider it a safety valve for my students because they're just coming from quantitative analysis where they have to be on for 45 minutes and their brain's hurting. They come in here and have fun, rest a little bit. Not every teacher probably agrees with that philosophy, but this is my classroom, my philosophy."
As the class period started, students gathered in small clusters either around the computers on the floor to watch the animated movie "Paranorman." Senior Ethan Weeks, who has been in Cooper's class for two years, said that he enjoys this day and the humor behind seeing Cooper limp down the hall in tattered clothes and bloody makeup.
"It's a de-stressor," Weeks said. "It helps students relax a little and take a break from the seriousness of school."
Cooper said his goal as a teacher is to not just educate his students, but leave a positive impact on their lives, because that's what they will remember. Cooper said he wants to be the teacher he wished he had as a student, so he feels it is important to continue turning himself and the hallway into the undead.
"There's always somebody saying 'that's debatable that your students need this [zombie outbreak] today,'" Cooper said. "I think that they did."
Leave a Comment
About the Contributors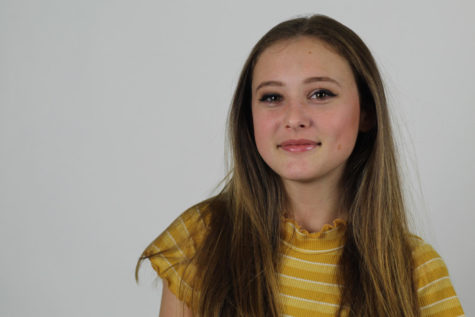 Abigail Lund, Staff Writer
Abigail Lund is a senior at Lovejoy, and this is her first year in The Red Ledger staff. She recently moved to Texas from Mississippi in January and is...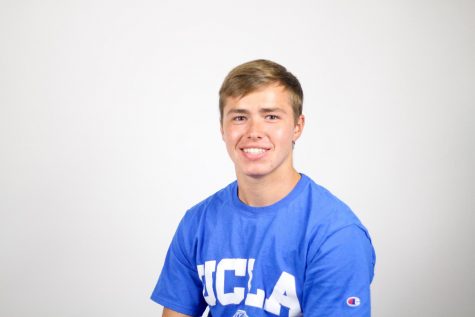 Cooper Meldrum, Photographer
Senior Cooper Meldrum is now in his second and final year with The Red Ledger where he will be a photographer. Outside of school, his hobbies include lacrosse...