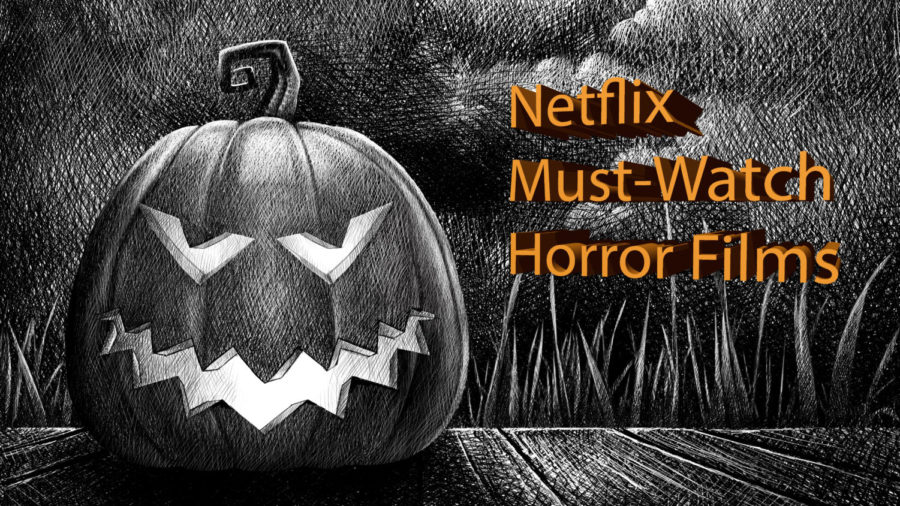 Cooper Meldrum
Senior Grant Vogel reviewed the horror movies of Netflix in preparation for Halloween. Whether you are new to thrillers or hardcore horror fans, pick your favorite movie to enjoy with some friends and a popcorn Halloween night.
Tucker & Dale vs. Evil (2010) – Two rednecks are mistaken for serial killers and chaos ensues with a group of dumb teenagers dying in extravagant ways. The film itself is a sort of parody of other slasher films in which a group of teenagers is attacked by some kind of disturbed individual(s). It is definitely worth the watch if horror movies aren't really a person's preferred genre.
The Witch (2015) – A Puritan family, banished from their village, deal with the disappearance of their newborn baby, Samuel. The film is set in 1630 and manages to develop a very dour tone after the baby goes missing. It is definitely a film not for general audiences, but is for extreme horror movie lovers willing to sit through sequences of mood development and world-building.
Raw (2017) – After arriving at her new veterinary school, Justine, a rigid vegetarian, tries meat for the first time. The film diverges from a quirky college film to a horror-drama within minutes of the first act. It is a hard film to watch and resist cringing by the events that transpire towards the end of the film. Raw is definitely not a movie for squeamish people.
1922 (2017) – A rancher plans to murder his wife with the help of his son. Perhaps one of the most symbolic and cinematic movie on the list, this film features a character study on a homicidal father who slowly loses his sanity after the disappearance of his wife. Not your standard horror film, but worth watching for the filmmaking and storytelling.
It Follows (2014) – A fatal curse is passed onto a teenage girl after she has sexual relations with another person. The cinematography in the film is essentially the main focus of the story. No one knows for sure who or what the killer is the film, and that creates a sense of paranoia as a result.
The Conjuring (2013) – Two supernatural investigators visit the home of the Perrons and a series of horrifying events occur as a result. Definitely the most accessible film on the list, and a great Halloween film for people who tolerate excessive jump-scares. Features some very innovative horror visuals that will frighten a general audience.