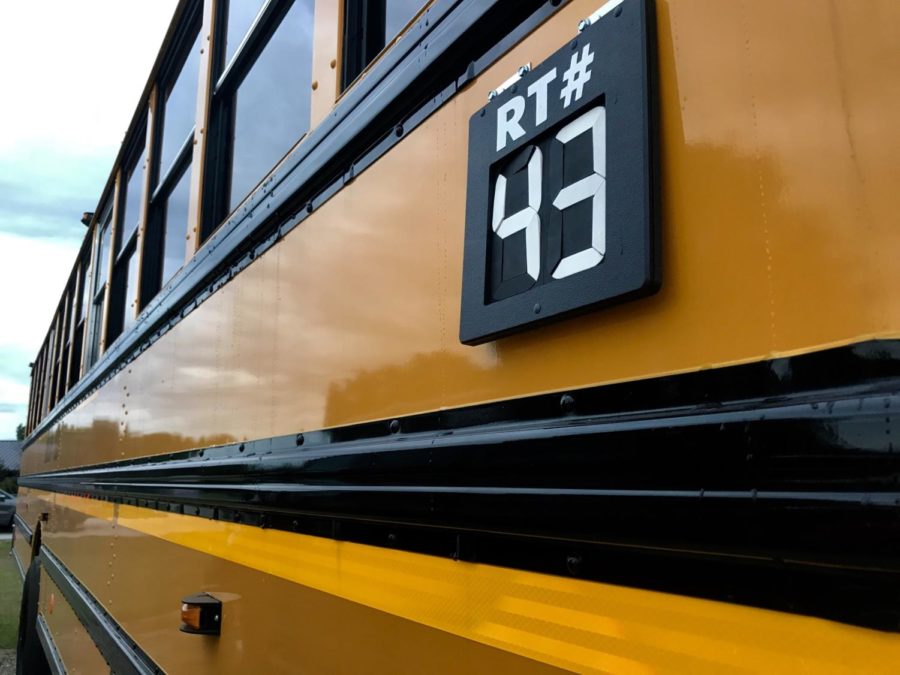 Shae Daugherty
Six new school buses featuring seat belts, overhead storage bins and backup cameras have been purchased this year by the district in compliance with Senate Bill 693 that states any bus purchased with the model year of 2017 or newer is required to have seatbelts.
Some extracurriculars used the International Integrated CE 3411 buses during the past few weeks, and the buses will be used for daily student transportation routes soon. The district will still keep the older buses on the fleet, though some will be disposed of after being replaced by the most recent purchase.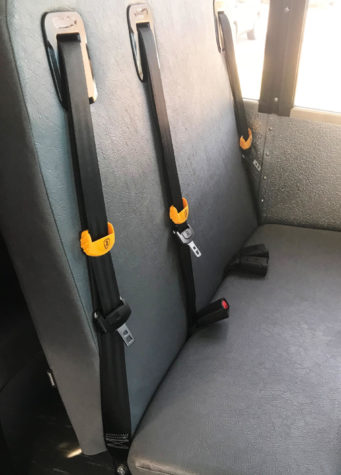 "What the board wants to do will dictate how many buses we add on every year or every other year basis," senior director of operations David Dillon said. "It's their decision based on the money and how we want to spend it, let alone the growth of the district."
The six buses will be distributed across the various campuses. The number of student riders determines how many of the new buses run on each route.
"The buses will be distributed predominantly based on the balancing of the age of students and the number of buses on the fleet," Dillon said. "Some of the older buses will be taken out of the regular daily service and made as spares."
On the way to competitions Saturday, Oct. 20, each band passenger was required to wear the seatbelts. Despite the added safety, senior Mitchell Massey said the seatbelts posed an inconvenience.
"[The seatbelts] were a little inconvenient and uncomfortable for a long bus ride," Massey said. "They made it impossible to sleep after an 18-hour day of contests because they force you to sit up straight."
The new buses also include overhead storage racks.
"The significant changes that a rider would see are overhead storage bins," Dillon said. "There is also a fairly significant change in the capacity of the air conditioning system."
Dillon said there are changes all over the bus from the engine all the way to the brakes to new the backup camera.
"It may be a yellow bus, but it's a very different yellow bus than what we've had," Dillon said.
The buses have not been placed on any routes yet, due to a last round of training that needs to be completed at the elementary level. Dillon said there are also some additional communications to send out for parents.
"Prior to the buses going out, probably through Email Express, we'll push a note out explaining that there are new buses that will be starting service with seatbelts and it is an expectation that all students riding the bus wear seatbelts," Dillon said.
Soon, elementary students will be instructed on how to use the seatbelts.
"We will do training sessions at the elementary schools and we are going to do a short video that shows the younger how to operate the seatbelts," Dillon said. "We'll actually take the buses to the schools and bring the kids out, especially kindergarten through second grade, and help them understand how to properly ride the new buses."